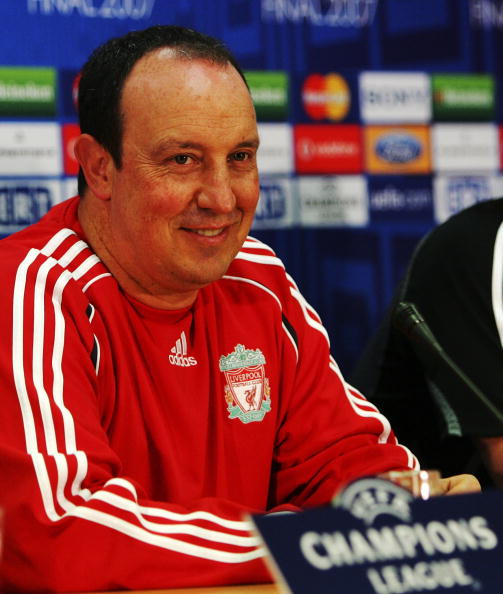 Sportingo.com contributor Orion Assante has a rather interesting and completely insane theory about why Liverpool limped to a rather poor Champions League final defeat.
Anyone who has read Dan Brown's The Da Vinci Code knows that a good conspiracy theory can be drawn from a small number of facts and a whole lot of presumption. In fact, so long as the theory stays within the confines of plausibility, the more ridiculous the theory, the more it sells.
So here it goes….wait for it… Rafael Benitez deliberately threw the UEFA Champions League Final against AC Milan. There I said it, I might even believe it, here's the proof.
1) Consider this. Rafa knew that his Liverpool squad was strong enough to beat Milan. Not only that, but year-on-year, he knew he himself had the cunning and the squad to make a serious impact in the UEFA Champions League. But that was not what he craved for. His ultimate prize was the Premiership and in that, he knew that he lacked the depth to conquer that pinnacle.
2) So what to do? Obviously Rafa knew he needed money to spend on new players. But he would have recognised that his record of spending money was akin to a fat boy in a candy shop – with lots of really awful sweets. Rafa's track record in the transfer supermarket of 30 players in three years would not have instilled confidence in the club's new owners, messrs Gillett and Hicks, that he could efficiently spot talent and galvanise new blood in the way that Sir Alex Ferguson could.
If Rafa had won the UEFA Champions League for a second time in three years, the reactions from the new owners may well have been "let's work with what we have". The reaction would have been especially apt after the new owners had just spent a mini-bomb in buying the club in the first place and would have felt the pinch in spending some more without first gaining some mileage from what they have.
So, in the mind of Rafa, why not tempt the new owners with a hint of what might have been?
Like a pimp in a house of ill repute luring a sailor, the temptation of getting it may well have been more fruitful that allowing it to happen and asking for money later. With the taste of a possible victory still lingering, Rafa marches up to messrs Gillett and Hicks, imploring them to spend more in order to take back the sweetness that was so cruelly snatched away.
Of course, the ploy worked. Wads of money were promised. Victory, so close at hand and so tempting to the pallet, must now be achieved at all costs.

Impossible theory? Laughable? Stupid? I can hear the chorus now. And in the background I can hear the defenders of the proud Liverpool say that even if Rafa had such intention, none of the players would agree.
Really? Stalwarts like Jamie Carragher, Xabi Alonso and Steven Gerrard – all lynchpins of his Liverpool side – would agree that winning the Champions League would be nice, but nothing beats winning the Premiership. What's the point of being a champion in Europe when you aren't even that at home? Especially when you have one winners medal already. All of the stalwarts recognise that in order to beat Manchester United, who are amassing an army of stars with Owen Hargreaves, Nani and Anderson sleeping tightly in their Cantona bedspreads. Trophyless Liverpool now clearly need similar to spend to compete.
And it does appear that Carragher, Alonso and Gerrard played as instructed. They already had a Champions medal, so this final wouldn't be a big loss to them with the bigger picture in mind. Which may explain why Gerrard was so out of sorts, and Alonso kept failing to hit his targets except to the fringe players like Jermaine Pennant and Bolo Zenden, whom could be counted on not to perform up to scratch anyway. And Carragher, a formidable defender and organiser, couldn't hold his line against a 33-year-old has-been when the defence had quite convincingly kept the likes of Chelsea, Didier Drogba and the entire Barca team quiet.
Which brings us to Rafa's line-up and substitutions.
Incident one: For an astute tactician, starting Zenden was questionable in light of the fact he hasn't played much all season. Same for Pennant, who has struggled to hold down a regular place. Starting one of the two may have been forgivable. Starting both? And starting them in one of the most important games in the club's history? True to form, Zenden was anonymous and Pennant, although good in part, looked out of his depth. For an astute tactician, this just seemed a blatant error – unless he was trying to show that he didn't have the necessary players to play in the respective positions, so he had to compromise.
Incident two: Knowing Milan's weakness against crosses, wouldn't starting Peter Crouch have been a better option? And being down, why would he wait until the 78th minute to introduce his top scorer in Europe? Why, after introducing Crouch, would he substitute his best 'assist' man Steve Finnan with, and here's the clincher, a defender, when he had attacking options like Mark Gonzalez and Craig Bellamy on the bench?
Incident three: Javier Mascherano played a blinder. He wasn't expected to contain Kaka, but did. And when he was replaced, Kaka went wild because none of the other players knew what to do in Mascherano's absence. You may legitimately wonder why a tactician of Rafa's calibre didn't brief his players for such a contingency. After all, Kaka is arguably the best player in the world. Of course, he didn't have to. Mascherano wasn't supposed to play as well as he did, anyway, and Kaka was supposed to destroy Liverpool – which he did, eventually.
As conspiracy theories go, Rafa fooled a watching audience that Liverpool are just THAT much short of winning everything, and he needs THAT much more cash in order to get it. And on the very next day, in making messers Gillett and Hicks give him what he wants, Rafa's plan succeeded far more than lifting any glittery cup could.
But the trouble with conspiracies is that you can only fool all of the people only some of the time – which explains why Dan Brown didn't write Da Vinci Code II. This time next year, I hope we don't get treated to a mouthful of Rafa's excuses saying his £100m squad just didn't fit as a team so he needs another £100m more to make it work.