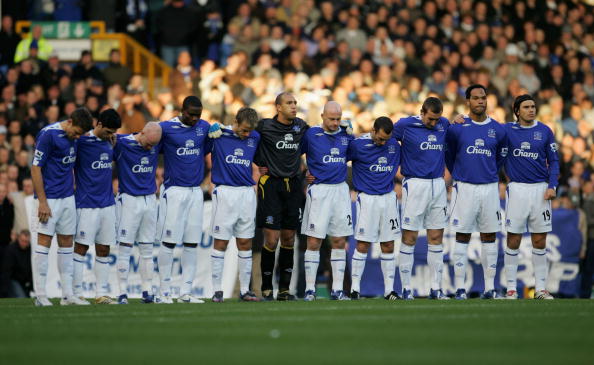 Peter tries where Mr. C failed, and ask Everton supporters nicely about their club.
If you'd like to write an article in response, or another topic, send it along to editor[at]caughtoffside[dot]com.

I've always ascertained that it's difficult being the ugly, less-successful brother. Then again I'm the good-looking, successful one in my family so what do I know?
Everton fans have had to live in the shadow of their bigger brother, Liverpool, for many a year now. But the gap seems to be shrinking from a monstrous chasm to a medium-sized valley. A mere two seasons ago almost reached the holy grail of the underachieving club – keeping their local, arch rival out of the Champions League. Of course, as if to highlight the gulf between the clubs, Liverpool simply went ahead and won the whole thing, changing the competition's rules in the process! As with any sibling rivalry, there is a positive bond there on some level just as there is in North London, Glasgow, or Manchester but there's always a lingering jealousy in the air when Liverpool and Everton supporters meet.
And it is very much a one-way train.
Everton truly one of the Premiership's fallen giants as Mr. C so kindly pointed out. I have to admit that there doesn't seem to be the infrastructure, ownership or money at the club to get them off the ground let alone out of their ground. It's an indication how far they've fallen when, until very recently, their season has hinged on the two derby games (although they'll have four to enjoy next season) and not getting relegated. Any Tottenham folks in the crowd can relate.
You can normally judge a team's ambition and reputation with who they are linked with in the transfer window. But things doesn't read quite so well for Everton fans. So far the only player that Everton have been strongly linked with is David Nugent who, despite great goal scoring record in the Championship, hasn't been tested in the Premier League let alone established a reputation as a 'Big' player. There's also rumours that Everton aren't prepared to give 12m to keep the services of Manuel Fernandes which, while steep, is the going rate for a youngster who is very highly rated throughout world football and who had no problems settling into the Premiership in his first season.
Some Toffees claim that their team is full of great, even world class individuals. Pointing out that Jolean Lescott was even linked with Real Madrid in January, but the sad truth is that with the exceptions of Arteta, Cahill and maybe Johnson the side is full of average players, or good-but-inconsistent players at best.
All of this quite evidently points to the fact that Everton just aren't a big team anymore and it will take a hell of a lot more than selling Kevin Kilbane and James Beattie to help them get out of their slump. Sadder still, is the fact that this ugly brother may be beyond help. Success is brought on by character, experience and the winning mentality which has departed from the blue side of Merseyside, possibly forever. For this ugly brother, no amount of plastic surgery may be able to reverse years of failing to look after itself.
But even as a Liverpool supporter I do not hold the same disdain for my blue half-brothers as Mr. C. I'm genuinely hope that there will be a time when the Merseyside derby can be about more than local bragging rights. If any Evertonian can convince me that there's hope for them competing with Liverpool in the long term, I'll happily post a retraction tomorrow.