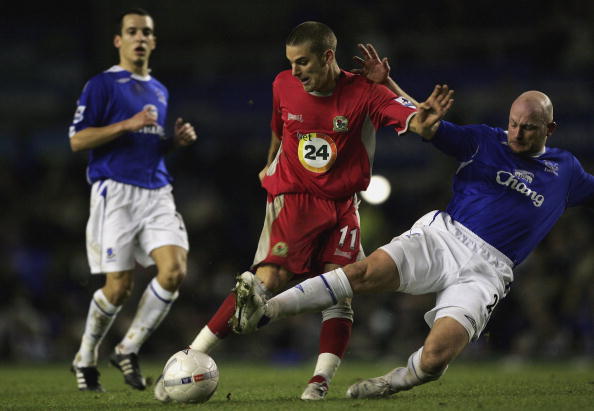 New boy Edward kicks off his COS career with a look at the need for an absolute nutter in the center of Everton's midfield.
The story goes that when someone presented U.S. President Franklin D Roosevelt with the disgraceful abominations of his ally, the Nicaraguan dictator Somoza, he reportedly said: "He may be a sonofabitch, but he's our sonofabitch."
Since David Moyes took over at Everton he has been hunting for our own "sonofabitch". Bids have been tabled for Blackburn's Robbie Savage, Newcastle's Emre, and more recently then-Manchester City's Joey Barton — three villains of the Premiership pantomime. Players who play like hate was their first love, who rely on the dark arts of the game, literally throwing everything but the kitchen sink at a game, diving, niggling, harrying, swearing, punching, spitting, and even on occasion baring their arses to the opposition. Players who use this melting pot of pugnacious and sly tools and whose skills, although present, are always cocooned in nastiness.
People might argue that Everton had a plentiful supply of them under Joe Royle with the "dogs of war" but although we played like a WWI field unit I never detected much malice in Barry Horne, John Ebbrell, or Joe Parkinson, a workmanlike and honest triumvirate, no so much unfit to lace the boots of the Kendall, Harvey, Ball trinity but who spoke utterly different football languages.
Since then the closest most non-Evertonians feel we have come to a "sonofabitch" is Thomas Gravesen, a man who ticked every box in the lunatic midfielder requirements, a player who looked ready to literally dive for the jugular, but who was actually a trickster.
But in terms of being a psycho he was a mirage. I am so tired of people making the brain-dead move of instantly associating a man with a shaved head and the moniker "Mad Dog" with the stereotype of a tough tackling midfielder. Gravesen was a terrible tackler; he wasn't the least like Roy Keane. Gravesen's attempts at being the enforcer consisted of careering around the pitch following the football like a celebrity stalker on amphetamines. However, Gravesen did have sublime skills, was a lovely passer of the ball – he had the same talent as Zidane (albeit in far less abundance) of being able to send such a perfectly weighted pass that the ball literally stopped at the intended recipients feet. Grav also had the unfortunate problem of occasionally getting carried away and trying to take on the whole team, but instead of progressing towards their goal, he invariably ended up by one of their corner flags. It made me laugh when Real bought him to be their enforcer.
Giving Grav the label of a tough tackler is weak journalism. It is only because of his shaved head and wild eyes that people think he is a pseudo-Keano, that and the fact people got him confused with Carsley. Even Arteta has more right to the tough-tackling moniker than Grav. The nickname "Blue Arsed Fly" would have suited Grav far better.
So where do we stand now?
Carsley is getting older, Manuel Fernandes (if signed) would be at worst drifter and at best a skillful manipulator – but definitely not a "sonofabitch", and Barton is on his way to his spiritual home: Newcastle (thankfully in my opinion, as he would have torn apart the dressing room).
The other midfield players we have been linked with are distorted by the crazed game of transfer Chinese whispers that goes on in the summer months. Yaya Toure (Kolo's brother) and Riquelme are both touted but if we signed either I would be VERY surprised, and would probably trash my house with sheer joy. In all reality I suspect that Moyes who got burnt badly by the attempt at signing Sissoko, which was gazumped by Liverpool at the 11th hour (Sissoko isn't much a "sonofabitch" anyway, more of a "skillful scheister"), and so he is playing his cards very close to his chest with regards to potential signings.
Personally I have mixed feelings about a potential "sonofabitch" – they could and probably would destroy the much vaunted Everton team spirit, or they could provide the final impetus for our constant push up the table. Ideally we'd have a player who is a supreme enforcer but never crosses the line into sonofabitch-dom and all the disciplinary and off-pitch problems they can bring; but those players are rare which is why players like Vieira and Keane, are truly priceless.