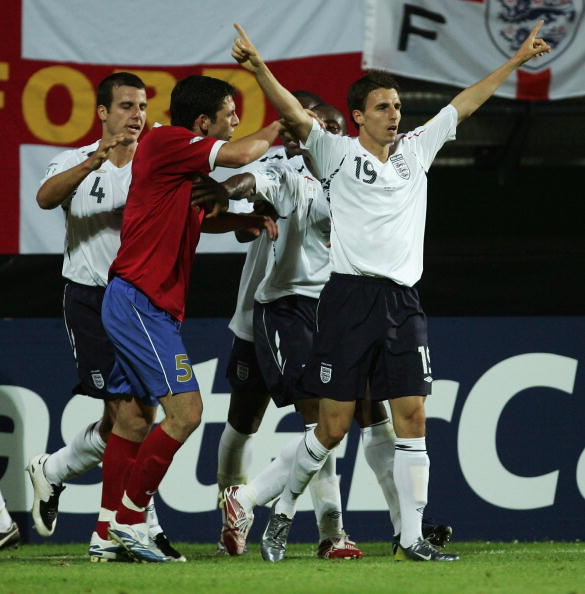 Daniel looks at the simultaneous success and plight of England's national team.
England's Under-21 team has reached the semi-finals of the European Championships; its best performance since the 1980s and a massive improvement on its failure to qualify for many of the finals since the era of Hoddle and Waddle's 'Diamond Lights' and The Hoff chatting away merrily to a camp car. So does this mean England has a new 'golden generation' which can match the heady heights of the current team by recording glorious World Cup victories over giants such as Trinidad & Tobago, Ecuador and Paraguay?
The primary purpose of an Under-21 team is to groom young boys with potential or, to put it another way that sounds less like the mission statement of a paedophile ring, to develop players so that they can become full England internationals.
But cast your eyes over the squad in Holland and who can you see becoming an England regular in the future?
Scott Carson (Liverpool)
Justin Hoyte (Arsenal)
Leighton Baines (Wigan)
Steven Taylor (Newcastle)
Anton Ferdinand (West Ham)
Gary Cahill (Aston Villa)
Nigel Reo-Coker West Ham)
David Bentley (Blackburn)*
Kieran Richardson (Manchester United)
David Nugent (Preston North End)
Ashley Young (Watford)
Wayne Routledge (Tottenham)
Joe Hart (Manchester City)
Liam Rosenior (Fulham)
James Milner (Newcastle)
Leroy Lita (Reading)
Tom Huddlestone (Tottenham)
Mark Noble (West Ham)
Matt Derbyshire (Blackburn)
Nedum Onuoha (Manchester City)
James Vaughan (Everton)
Ben Alnwick (Tottenham)
Peter Whittingham (Aston Villa)
*Withdrew…too sleepy.
Well reading that list hasn't made you rush out to plan your World Cup 2014 celebration party, has it?
I can see most of the above players having long careers in the Premiership and I can see some of them regularly getting into the England squad. But playing in the first team on many occasions or even giving the current incumbents some much needed competition for places (beyond that provided by the likes of Jermaine 'Ooh, another stamp for my passport, terrific' Jenas)? If Steven Taylor and Mark Noble continue their quick rate of progress they could be knocking on the door, but there is already a lot of competition for the centre back and centre midfield places amongst players who are still in their twenties. Ashley Young is clearly talented and Matt Derbyshire seems to have some genuine goal-scoring talent, but from the above list the only player that I confidently expect to gain many first team caps is David Bentley (providing he doesn't need to catch up on some shut-eye).
Is this a cause for concern? Well the problem can be overstated. The Under-21s do not include the best young player in England, Wayne Rooney. Moreover, Rooney has never played for the Under-21s because he was immediately considered good enough for the grown-ups team. Similarly, Aaron Lennon is not in the squad, because having proved himself in the World Cup, to play for the Under-21s now would be considered a backwards step. Players who have gained many Under-21 caps tend not to progress, partly because if they were that good they would have been blooded into the senior side sooner. England's top ten most capped Under-21 players consists of players that have struggled to get into the full England team (e.g. Jamie Carragher and Jermaine Defoe), players that have struggled to get into the full England squad (e.g. Gareth Barry, David Dunn and Jermaine Pennant) and players that would struggle to get into the 10th Hillingdon Cub Scout squad (e.g. David Prutton).
Nor is the problem being caused at a deeper level by a shortage of young players wanting to play football. Football is still the pre-eminent sport in England by a distance and has only become more popular and a more attractive career since Sky poured money into the Premiership in the 1990s.
But the lack of quality, young English players is a worry. Even the FA – whose football perceptiveness I rate somewhere between that of my gran and Football Focus's Manish Bhasin (and, yes, I do rate my gran higher than Manish) – are widely believed to be concerned about how few good young players have emerged in recent years.
A key cause of this lack of quality is that young players are finding it harder to get an opportunity at top clubs. In part, this is due to the progress clubs have made in developing global scouting networks, resulting in young English players competing for contracts with peers from different countries rather than just different counties. In part, it is also due to the huge financial and media pressure for immediate success that clubs face and which are not conducive to taking a long-term view and developing young talent. Take the case of Theo Walcott. A year ago he was the subject of massive media interest and expectations of success. I remember seeing an interview with Franz Beckenbauer, where even one of the most successful men in the history of football was moved to ask what type of player Walcott was and how he played.
Sorry, Franz, but one year on we're none the wiser. We don't know how good he is or, perhaps more importantly, how good he will become because he is not being given much of a chance at Arsenal. Arsenal need Champions League money and status to attract players and so Arsene Wenger (who gives youth a chance more than most managers) is tentative about taking the 'risk' of playing Walcott in games. Walcott is also indicative of the other problem faced by young English players; that if they have a few half-decent games a big premium gets placed on their transfer fee, which makes it less likely that better clubs will buy them. Look at the £17m price tag on Darren Bent. Yes, he's a decent player and should get better, but £17m would get you a proven quality international if you were prepared to buy an overseas player.
Trends like advances in scouting networks and increasing financial and media pressure are unlikely to be reversed. Similarly, a much-discussed limit on overseas players in clubs is unlikely to happen as it would contravene EU law. So what can be done to improve the development of young players into full internationals?
A starting point would be to take the Under-21 team more seriously. I can well believe that after his first season of being a regular starter in the Premiership that Bentley was tired. But if representing England at the Under-21 European Championship was considered truly prestigious, I think he would have played on through his fatigue. Italy take their Under-21s very seriously and as a result are the most successful team in the history of the Under-21 European Championship. It surely cannot be a coincidence either that they have a better record than England for converting Under-21s into full internationals. And let's face it, Italy have a much better World Cup record than England, so trying to replicate aspects of their international system wouldn't be such a bad idea.
So who will we be cheering on in the years to come? Will the players in Holland emerge into England greats or will every international championship see all our hopes being placed on Captain Rooney, praying that the next medical update about his injury will be good news and wishing that he doesn't get sent off again? Would you feel confident of success if England were to field the following 4-3-3 team in a future championship:
1. Ben Foster
2. Micah Richards
3. Leighton Baines
4. Steven Taylor
5. Curtis Davies
6. Tom Huddlestone
7. Nigel Reo-Coker
8. Mark Noble
9. Wayne Rooney
10. David Bentley
11. Aaron Lennon
Have you seen players last season who you think will establish themselves in the full England team? Is the future bright? Is the future orange? (No, Creosoto Ronaldo plays for Portugal). Or should we brace ourselves for more disappointment at major international championships?
Right now, the latter sadly seems the most likely. Also because Steve McClaren sucks.