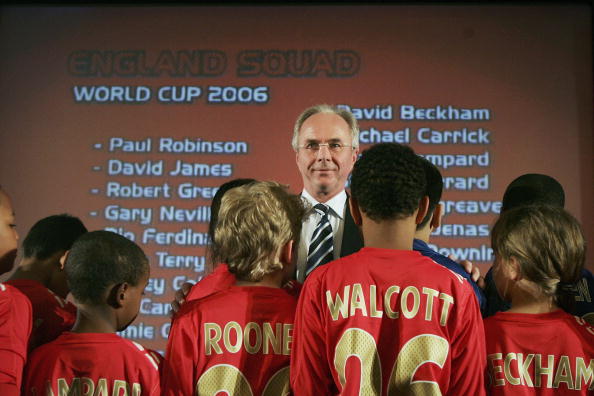 Today Man City fans can rejoice that their revolution has begun, a billionaire owner and a new manager – Sven "All Of England Hates Me" Goran Eriksson.
Now it would be rude to suggest that he has come to City to keep his wife in the style she has become accustomed to and therefore is only after the massive contract. It would be rude, but it might also be accurate. Everyone knows just how much he managed to milk out of the English FA even after he was released from his contract, and his amusingly named agent made it clear Sven would only go to a club rolling in cash.
The more important question is what are City fans going to get for their increased season ticket prices?
Well SGE is no managerial mug, his record for England was blighted by high profile defeats but was generally sound. Lots of boring wins and boring draws, and boring losses. There are even those that would put England's failures in tournament football down to the lack of conviction of his millionaire players rather than Sven's inability to rally them. In club football the Swede has done a great deal more, winning six league titles across three countries. His most notable triumph at Lazio, winning the double in 2000, was essentially achieved by throwing money around left and right – not a bad sign of times ahead. Lazio also went into mild financial ruin as a result of their spending, which is probably best not to think about.
At Sinatra's new plaything he will have money, vast amounts of money, which will be sorely needed in order to finally get the club within eyesight of Manchester United. He won't have to worry about dealing with Joey Barton, and has a few young talents to mould in Micah Richard and Stephen Ireland. Unfortunately, the squad is also currently graced by the likes of Paul Dickov.
But with Sinatra claiming that the purse strings will actually need some convincing before they are opened, Eriksson is almost certainly going to find himself in entirely new managerial waters. Journeyman Premiership footballers are a far cry from the galaxy of stars he commanded with England and Lazio, and if he wasn't able to get the best out of the league's top players then what are the odds that he'll do it with some of its crap ones?
He's sort of the opposite appointment of Sam Allardyce at Newcastle, where there is little doubt that the ex-Bolton boss will turn the club around in the short term with the players he's forced to manage. The question there is whether he can take them all the way to the top. Eriksson has proved he can win titles when handed an array of talent, its what happens between now and then that's got us a bit worried.