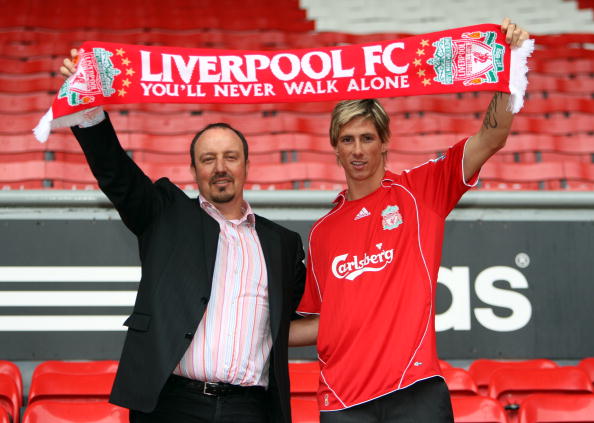 Daniel thinks the strikers aren't the root of Liverpool's attacking problems.
Hooray, Liverpool spent a lot of money!
Hooray, Liverpool spent a lot of money on a Spaniard that we've heard of!
Hooray, Liverpool spent a lot of money on one quality player rather than several mediocre players who are unlikely to be first team regulars!
Hooray, Liverpool will win the league! Woooooooooah there.
With Liverpool smashing their transfer record to buy a world famous player who appears to have been coveted by Man U and Chelsea in recent times, expectations that Liverpool will once more top the league table have been raised. But Liverpool need more than Torres to be the best team in England.
Torres is fast, direct and makes excellent runs. If Liverpool sell Bellamy, as seems likely, Liverpool will need Torres's pace and movement to stretch opposition defences. Don't be surprised though, if Torres is asked to make runs out to the flanks to give the Liverpool attack width (just as Bellamy was asked to do last season) rather than making runs towards the penalty box, particularly if he is partnered with the less mobile Crouch. Playing an unselfish role like this for the team will not help Torres's goal tally, but he is not a penalty box predator in the Fowler or Rush mould and may not be the 20-plus goals a season man that Liverpool have lacked since Owen's departure. In the last two seasons Torres has lost his goal touch at Athletico Madrid, scoring 15 goals from 40 appearances last season and 13 from 40 the season before. This compares to 18 goals from 47 appearances (2006-2007) and 13 from 49 (2005-2006) for Crouch and 14 from 48 (2006-2007) and 25 from 38 (2005-2006 at Feyenoord) for Kuyt.
It is harder to be a prolific goal-scorer in the modern game because of the increasingly cautious football played by teams, particularly at the top level. Liverpool have been part of this trend towards more defensive football. Under Benitez, Liverpool's defence has been its strongest asset. This is clear from comparing the goals conceded and goals scored by Liverpool to the league winners. Whereas Liverpool and Man U both conceded 27 goals in the league last season, Man U scored 83 goals to Liverpool's 57. Liverpool also scored 57 goals in the previous campaign compared to Chelsea's 72.
Clearly then, Liverpool need to score more goals to win the title. Buying better quality attacking players will help Liverpool achieve this goal. Torres is an improvement on the attacking personnel Liverpool have and, importantly, he gives the team another match winner. Liverpool have become too reliant on Gerrard and Anfield for inspiration. The team needs other players to turn games, particularly away from home. Liverpool scored less than half the goals Man U scored away from home last season, winning only six league games and losing nine.
But having good attacking players is just one part of scoring enough goals over the course of a season to win the title. The other key factor is how committed you are to attacking. A team can have great attacking players, but if the manager has a safety-first approach, with getting players behind the ball and denying the opposition space as priorities, then the team will still struggle to win enough games over the course of a season to top the league. Under Benitez, Liverpool's cautious style of play away from home and aggression at Anfield has proved a successful formula in the Champions League, but not enough to be a genuine contender in the Premiership. Benitez has shown awareness of this – he was keen to play two wide players at the start of last season and push the midfield into more attacking positions. But Liverpool started badly, Pennant and Gonzalez were ineffective and Liverpool were out of the title race by the end of September, leading to Benitez to revert to a more familiar, less adventurous style of play.
Torres is a step in the right direction for Liverpool. His signing shows the ambition and financial clout to compete with Chelsea and Manchester United for higher quality players. But Torres alone won't close the goals gap to Manchester United. To do that, Benitez needs to tell his team to press forward more for the three points. If he's not prepared to gamble more on attacking, Liverpool won't achieve the dream of bringing the title back to Anfield.