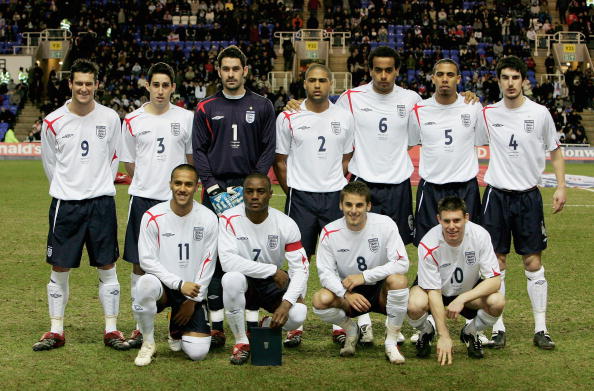 Jason takes a look at the obvious, and not so obvious, young players who need a little attention next season.
While the start of the Premiership season is still over a month away, eager fans have no doubt frantically checked the schedules for when their derby matches are, bought their supply of beer and locked up their non-supporting spouse in the cupboard to avoid being irritated during matches. Here, I give you a list of the top ten young players who will need watching this Premiership season for different reasons, some of them being spoken about worldwide, others seemingly unheard of.
If you have your own young player to nominate, slap them in the comments and let us know why.
Gabriel Agbonlahor , (Aston Villa)
The English-born player played in every single Aston Villa game last season, surprising many with his skill with the ball and blinding pace. His return of 10 goals in 41 appearances in all competitions is very good for a mere 20 year old, often played on the wing as Aston Villa used other options up front. Agbonlahor has the mindset to succeed on the big stage, already scoring against Liverpool, Chelsea and Manchester United. However, he is not just a scorer of goals. The England U21 international also set up six goals for his team-mates, and both fans and players of Aston Villa will be glad to have such a selfless player in their ranks. Tipped for great things in the future, Agbonlahor will no doubt trouble more Premiership defenses in the upcoming season and will hope to continue his scoring record against the top four.
Denílson Pereira Neves (Arsenal)
Although a relative unknown in the Premiership, Denilson has already won the Copa Libertadores and the FIFA Club World Cup with Brazilian side São Paulo. He made just 12 appearances for them, mostly as a substitute, when Arsene Wenger parted with £3.4m to bring a player that was barely known in Brazil, let alone worldwide. While global audiences lusted after the talents of Brazil stars Kerlon and Alexandre Pato, only Wenger knew what a player he had on his hands. The Brazilian U19 international was eased into English football by Wenger as all his youth players are- by being given a run in the Carling Cup. Denilson shone, showing the that he could not just attack, but defend as well. Firing in a series of highly powerful shots and highly accurate corners, it is surprising that he does not have more than just a solitary assist to his name but you can be assured of one thing- when the first goal comes, the rest will follow. His performances in the Carling Cup helped Arsenal reach the final where the team of Arsenal youth players and reserves lost to a full strength Chelsea side. Although he has only started four games in the Premiership, he is tipped for great things and will get a lot more games this season- satisfying many Arsenal fans wanting to see more of the young player they saw outclassing those many a year older in the Carling Cup run.

Nicklas Bendtner (Arsenal)
Bendtner comes to Arsenal far behind in the list of striking options, with Robin Van Persie, Emmanuel Adebayor and Theo Walcott all ahead of him. While Arsenal search for another striker to replace the departed Thierry Henry, this is not to say Bendtner will not get games for the Gunners. Theo Walcott is being played on the wing at the present moment to give Arsenal some much needed width, while Emmanuel Adebayor will disappear for more than a month when the African Cup of Nations takes place. Having an aerial presence to add to great ball control and deceiving pace, Bendtner was sent out on loan to Birmingham- not just to give him regular first team games but also to see if he could compete in the physical Championship. By all accounts, he has done well. Steve Bruce, Birmingham manager has named Bendtner as one of his most instrumental players in securing their promotion to the top flight as the Arsenal man impressed greatly. With a scoring record of 1 goal every 3 starts, Bendtner did well at such a young age. The Danish player also set up 9 goals for his team-mates, leaving Arsenal fans waiting to see how he will do with the first team. Already a full Danish international, if Bendtner does not play much in the Premiership he will have the Carling Cup to show off his talents, and one would not bet against Arsenal reaching the final again if he plays as well as he did for Birmingham.
Matthew Anthony Derbyshire (Blackburn)
Blackburn have a new English striker ready to trouble defenses. His name, you ask? Matt Derbyshire. After shining at loan to Wrexham where he scored 10 goals in 16 appearances, Derbyshire came back to star for Blackburn as well. Ending the season with 9 goals in 14 starts for Blackburn's first team, Derbyshire was subsequently called up for the England U21 team to play at the European Championships. Good in the air and at getting into the box, it seems Derbyshire has all the facets to become a top, top player in the Premiership and where better to bide his time than at a club like Blackburn. Competition is fierce at Blackburn, with the likes of Benni McCarthy, Jason Roberts and Shabani Nonda all competing for a place in the frontline but fans of the club will know that even if the inevitable departure of McCarthy takes place, they can rely on Derbyshire to score goals. Mostly used off the bench, it is sure that he will get to start more games for the club this season and Blackburn fans will be hoping their team can sneak into Europe if their performances improve.
Luís Carlos Almeida da Cunha (Manchester United)
Better known as Nani, United shocked the world by spending a massive £17m to bring Nani to Old Trafford from Sporting Lisbon. Dubbed the new 'Cristiano Ronaldo', Nani is seen as a long term replacement for the ageing Ryan Giggs. Possessing speed and guile that will make him useful to United's quest to protect their Premiership title, Nani is equally capable of using either foot to cross or shoot with the ball and his celebration, consisting of a series of somersaults will keep him in the mind of those that have seen him score goals. A regular for Sporting Lisbon in the 2006/07 season, Nani helped them win the Portuguese Cup as well as finish just a point behind league winners FC Porto. Nani has an array of tricks, flicks and turns to beat opposition players and should he adapt to the English Premiership, he will be one to fear. Although he will not start many games for United this season, Nani will be a player that can come off the bench and change games- perhaps starting a few Carling Cup ties. Having already played for the Portuguese national team, the new United player will try to deliver on the great expecations being placed on him, as the boots of Welsh legend Ryan Giggs will not be easy ones to fill.
Anderson Luís De Abreu Oliveira (Manchester United)
Anderson Luís De Abreu Oliveira, better known as just Anderson was the second player bought United's sensational £50m splurge. As with Nani, he could cost £17m pounds or more, depending on apperances and the like. Christened the new 'Ronaldinho' because of their resemblance both on and off the football field, Anderson is a central attacking midfielder brought in to replace Paul Scholes in the long run. Capable of playing all across the midfield, as well as covering at fullback, Anderson will be able to cover for United in case of injuries or suspensions- perhaps far better than United's two current jack of all trades, John O'Shea and Darren Fletcher ever could. Starting his football career playing for the same club that Ronaldinho did, Anderson's performances at Gremio caused Porto to sign him. He returned the favour by helping them win the 2006/07 Portuguese league, getting the better of his new Untied compatriot Nani. Anderson has not played for the full Brazil national side yet, but he has still done well at youth level- winning the Adidas Golden Ball en route to firing Brazil into the final of the 2005 U17 FIFA World Cup where they lost to Mexico. United fans will hope that the acquistions of Nani, Anderson and Hargreaves in their latest splurge will help them not just win the title, but be kings of Europe as well.
Gareth Bale (Tottenham Hotspur)
Once sharing a room with now-Arsenal prodigy Theo Walcott, Bale was tipped for great things in the Premiership, whether at his then club Southampton or for another team. As Southampton failed to qualify for the England's elite division, losing to Derby County in the Championship playoffs, Bale was sold to Tottenham Hotspur for a £5m intial fee, eventually rising to a possible £10m dependent on the usual appearances & trophies. Gareth Bale plays as an attacking leftback, capable of filling in as a winger if needed. A deadly left footer to have in your team for set pieces, Bale surprised many Championship keepers with the pace and swerve he put into his freekicks. Winning the Football League Young Player of the Year award for the 2006/07 Championship season, the Welsh-born player should find the Premiership no problem to adapt to as Tottenham attempt to break into the top four. Already a Welsh international, Bale made his debut against Trindidad and Tobago on 27 th May, 2006, coming on as a substitute and setting up the goal that would win Wales the game from Robert Earnshaw. With Aaron Lennon already terrorizing defenses in the English Premiership, Bale will ensure that opposition players on the opposite flank get no rest as well.
Aaron Lennon (Tottenham Hotspur)
The name Lennon is now widely known among followers of the English Premiership and while he is already fairly proven, next season will be a big one to determine whether Lennon develops or simply continues to pull from the same bag of tricks. The Spurs winger has made many a defender fall over with his ability to change direction at speed and his flashy footwork. Playing for England at the World Cup, Lennon was one of the impressive features of a side that slumped to a penalty shootout loss against Portugal in the knockout rounds. Tottenham fans point to Lennon as the perfect replacement for David Beckham when the LA Galaxy player decides to retire from the International stage, and few would disagree. Creating goals aplenty for his fellow Spurs players, Lennon will hope to add goals to his armoury, the one thing he currently lacks. Although the right winger made 13 goals for his team-mates, he only scored 5 goals himself. However, with the ability he has to get into advanced positions, few would disagree that he will get more goals in his career. Costing Tottenham Hotspur just £1m from Leeds in June 2005, his value has increased tenfold since then and he represents another player Spurs will have made a massive profit on if he decides to follow Michael Carrick's footsteps out of White Hart Lane. Fans of the North London club will hope he doesn't, as if he does they will have no chance of getting into the top four ahead of London rivals Arsenal.
Luis Antonio Valencia (Wigan)
Far to good to be playing in a team as dour as Wigan, Antonio Valencia impressed greatly playing on the wing last season. His dynasism and electric pace brought in another dimension and him adapting quickly to English football was one of the main reasons Wigan avoided relegation. A valued member of the Ecuador national team, those of you that watched the World Cup would have noticed Valencia putting in accurate crosses from the byline, as well as helping his team out in defense when the need arose. Voted as the Best Youth Player at the 2006 World Cup in the official poll, the young players' fast growing fanbase were disappointed when tournament officials awarded the gong to German forward Lukas Podolski. Merely on loan from Villareal at present, Wigan's new manager Chris Hutchings looks set to confirm a new one year deal for Valencia. Constantly running up and down the pitch to help both defense and attack, the Ecuadorian international's selfless play has allowed his team-mates to shine. One for the future, Valencia will try to improve on his solitary goal from last season and will be a fearsome player to come against in the future.
Giles Barnes (Derby County)
Giles Barnes, attacking midfielder for Derby will be able to display his talents in the Premiership arena for the first time next season. One of Derby's most important players as they secured promotion via the Championship playoffs, Barnes even helped provide for the team's most important goal of all- the cross which Pearson converted to beat West Bromwich Albion in the playoff final was his. A goalscoring midfielder, Derby's number 28 scored 8 goals himself and made 6 goals for his team-mates on his way to becoming a fans' favourite at the Pride Park Stadium. Not just blessed with pace, Barnes has the physical build to compete in the unforgiving Premiership. An entertainer, the English player's impressive performances have led him to be linked with Tottenham and London rivals Arsenal, but his rejection of Tottenham as a possible destination will no doubt increase his standing in many Gooners' eyes. New to the Premiership, Derby are assured of not being humiliated as long as Barnes and manager Davies stay with them and who knows, they could even surprise a few teams along the way.