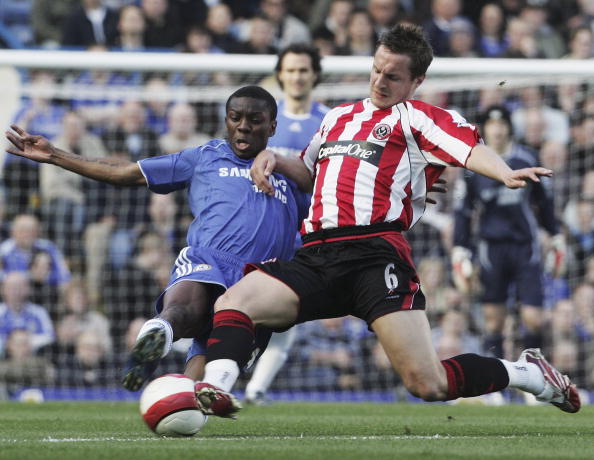 Edward checks in on how kind the transfer summer has been to Merseyside thus far.
We did it!
After stalking his quarry for an inordinate amount of time – the Moyesiah has finally snared Phil Jagielka, the man that The Guardian wittily describes as a "footballing Swiss Army Knife". Phil can play all along the back four, in midfield, and even in goal (thus giving Moyes the possibility of playing no goalie on the bench like Warnock did on numerous occasions.)
The crucial element of the Jagielka signing is that Moyes refused to be rushed, waited patiently until Sheffield Utd's relegation was confirmed (and the 4mil release clause was activated), and swooped; signing him on OUR terms. Jagielka is an Evertonian, already refers to Everton as "we", is young with commitment and passion without the niggling "sonofabitch" qualities. Moyes is rumoured to be interested in Koumas too, who is also an Evertonian – building up a healthy spine of Blue Boys. Another Evertonian lurking on the periphery like a Shakesperian Ghost is David Nugent – a huge Everton fan. I think if someone else doesn't snap him up soon there is a real possibility that we could get him cut price over Christmas, or even on a free when his contract expires next summer.
Whilst Evertonians were awkwardly trying to cope with the ridiculous debacle going on at the official Everton website – a post going up for a few excruciating minutes falsely claiming that we had signed Riquelme, Liverpool were busy negotiating with Fernando Torres. I believe Torres is an extremely expensive and risky signing, especially given the belly flop of a career that another Fernando (Morienties) had. I look forward to Reds scuttling out of the woodwork and pointing to his robust goalscoring record. He has however been Athletico's offical penalty taker for a number of years now, something that has added a certain fake sheen to his scoring statistics. I remember that Everton's signing of AJ was me with rabid howls of derision from the imbeciles across the park, "he scores all his goals from the penalty spot"
Oh how times change!
---
Read more Everton articles on the Everton section. 
---
 Caughtoffside.com – Sports blog & Football blog offering Football news