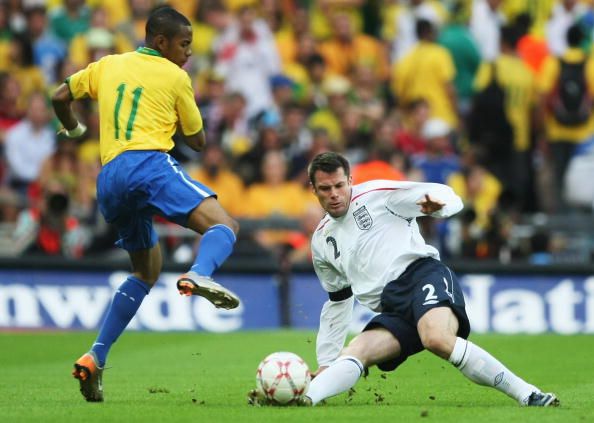 Lucas comes to a Liverpool's hero's defense, and takes time out to attack everyone else.
Liverpool hero Jamie Carragher is retiring from international football, and that is just a goddam disaster. Carragher isn't one of the best players on the team- he doesn't necessarily deserve a starting spot, and in fairness, when Chelsea's John Terry and Manchester United's Rio Ferdinand are on their game, there are really very, very few better at central defense. Carragher himself, as has been postulated by many, sort of knocked himself out of regular playing time with his ability as a utility player- he'd never unseat Gary Neville at right back, he'd never get regular playing time in the center of defense. But what he does do, and what Liverpool fans adore him for, is care about his sport, his performance, his club and his country. You don't see that much in the England squad as many are waking up to the fact that they are indeed a group of overpaid jackasses who show an absolute inability or desire to step up for important games. Or even nonsense games.
This has to do with the coaching, which has been utterly brutal for years. It has to do with the media, who spend the months before every tournament touting England for success without, you know, looking at the string of mediocre results against awful teams. And of course, you've got the players themselves, who've been coddled and verbally fellated by every footballing personality they've come across.
With all this in mind, I'm going to look at the current squad player by player and look not necessarily at skill, but at who really seems to give a shit. Does this change anything? No, not really. Does this prove anything we don't already know? No, not really. Does it give me a chance to call Frank Lampard a tosser? You'd better believe it does.
Here we go, then:
Goalkeeper- Paul Robinson (Spurs) Robinson is constantly rallying the troops, trying to organize the defense, and throwing his body around n front of the net. Of course, over the last year, he's been doing all this with his thumb up his ass. But he is a leader on the field, as far as that goes for this squad, which has to mean something.
Right Back- Gary Neville (Manchester United) As with Robinson, he cares, but he's pretty much mediocre at best at this point in his career. He won't lose his spot until he says he's done, though, because McClaren is pretty much unable to make major changes to his regular side, a problem for a different piece.
Central Defense- John Terry (Chelsea) & Rio Ferdinand (Manchester United) John Terry and his terrible hair can never be said to show a lack of passion. Rio Ferdinand, on the other hand, manages to give the impression that he'd rather be somewhere, anywhere else than playing for England. Give me a less talented but always-committed Jonathan Woodgate, or Ledley King, any day.
Left Back- Ashley Cole (Chelsea) Oh, boy. What more can be said about the man they call Cashley? He's a twat, he's greedy, he only cares about money, he kicks puppies and punches orphans – whatever you want to say, Ashley Cole is one of the standard bearers of the "who cares" brigade.
Right Midfield- Aaron Lennon (Tottenham) & David Beckham (LA Galaxy) Lennon has started to show signs of the wonderful arrogance you need to be a top player, which is nice for someone who hasn't fired in a good cross in months. As for Beckham, he'd fucking better care, given that competing against the likes of Herculez Gomez won't exactly cement his spot.
Central Midfield- Frank Lampard (Chelsea) & Steven Gerrard (Liverpool) Frank Lampard is a prat. He whines, he bitches, he puts on thirty pounds. Maybe he'd shut up if they started paying him in chocolates. I don't know, I'm just throwing ideas around. Steven Gerrard, for me, has always managed to make a delightful combination of whole-hearted passion and annoying complaints. Lampard goes, Gerrard stays.
Left Midfield- Joe Cole (Chelsea) He usually gives up about seventy minutes or so into the game, which of course is convenient, as the games run, oh, about ninety minutes.
Striker- Michael Owen (Newcastle) & Wayne Rooney (Manchester United) Michael Owen, who hasn't been the same since his wondergoal in 1998, probably cares enough, but maybe isn't good enough any more. Rooney falls into the Gerrard category for me, though whether it's "passion" or "sheer, unbridled fury" I can't say.
So I suppose what I'm trying to say is that until someone starts shaking things up, or Wayne Rooney manages to get the rest of the team to stop caring about common rules and start stomping on everyone's sack, there will probably be a noticeable lack of effort from England.
Even more so that the only player who actually gave a damn, just gave up. Tally-ho.