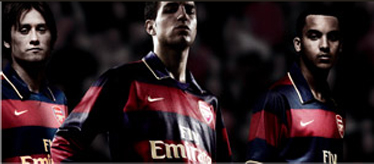 This is the alleged new Arsenal 3rd kit being passed around, not sure if it's old news already but it's quite a err…interesting kit. In all fairness, it's not that unattractive and probably looks quite nice when it's not bathed in photoshop effects but that's not really the issue.
It looks a bit like Brazilian side Flamengo, or some bastardised version of an old QPR away kit. But it also continues a weird trend for Arsenal this year of picking up style tips from rivals without any attempt to maintain the traditions of previous kits – their lovely white away kit caused uproar with Gunners and Tottenham supporters alike.
We look forward to the day when a North London derby is played between a team in red and black hoops, and a team in sh*t-brown.