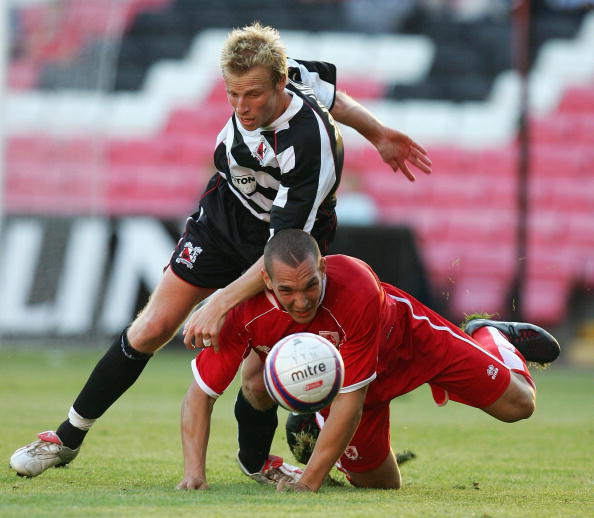 Dan looks at one of next season's dark horse relegation candidates, and as usual it's up front where Middlesbrough will live or die.
If Christmas is the time of goodwill to all men, then pre-season is the time to make a profit from their misery. The bookmakers' favourites to be relegated from the Premiership next May contain the usual suspects: those that have just been promoted (Sunderland, Derby, Birmingham) and those that just avoided the drop last season (Wigan, Fulham). The exception is West Ham, whose policy of offering multi-millions for anyone who might remotely be interested in moving clubs has made the bookies think that they will finish a highly respectable 15th.
Usually at least one team outside of these predictable few also struggles and this coming season should be no different. Many think Reading will not repeat their terrific form of last season and could 'do an Ipswich'. Bolton have replaced Big Sam with Little Sam (well, height-wise anyway) and suddenly Tal Ben Haim has gone and Jussi Jaaskelainen and Nicolas Anelka are being heavily linked with other clubs.
And don't be surprised if this season's relegation scrappers from the North East are not Sunderland, but Middlesbrough.
Things have not gone well at the Riverside since Steve McClaren left. (Yes, you did read that sentence correctly and, yes, it was difficult to type). Little over a year ago they were in the UEFA Cup final and fielded a team of youngsters against Fulham that promised a bright future. McClaren went, England fans mourned and Boro fans hoped that a new manager would take them to the next level. And the right manager would have done, but instead Steve Gibson chose Gareth Southgate.
In appointing Southgate as manager, Gibson fell into the trap that has ensnared so many other chairmen: he was a good player = he'll be a good manager; he played for England = he'll be a very good manager.
Had Gibson thought about the managerial success of former England players, he might have selected a proven manager instead. England players of my lifetime such as Tony Adams, Terry Butcher, Carlton Palmer, Stuart Pearce, Paul Ince, Paul Gascoigne, Nigel Clough, John Barnes, David Platt, Ray Wilkins, Bryan Robson are evidence that there is a huge difference between performing on the pitch as an individual and getting a whole team to perform on the pitch for you. The only two ex-England players from this generation that managed at the top level are Kevin Keegan and Glen Hoddle. One gave the honest admission that he wasn't good enough, the other simply went mad.
If you're recruiting someone for a job, you want to make sure that they have the necessary skills. For a football manager these include tactical awareness, man-management ability and having two brain cells to rub together. The England squad isn't the best talent pool when judged on this criteria.
Choosing Southgate as manager also gave rise to the risk that players would not try as hard for a man who was a team-mate and a friend not long before. This would explain the excess of lacklustre displays from Boro last season. Although they beat Chelsea and gave Manchester United a run for their money, they also lost to all three newly promoted Premiership sides and didn't get an away win until January. This lack of application from some players against lesser teams/when the crowd isn't on their side/when the TV cameras are elsewhere, does not bode well for a team over the course of a league season.
Last season when Boro did falter the usual refrain was, "They'll be OK because they have Viduka and Yakubu." But now Viduka has gone and the vultures of Manchester City and Portsmouth are circling over Yakubu. Eriksson hasn't had the opportunity to spunk a chairman's money for 6.5 years and Redknapp hasn't for… a couple of weeks or so, but that's still a long time for him.
To bolster his squad this summer, Southgate has signed Tuncay Sanli and Jeremie Aliadiere (who failed at Arsenal, Celtic, West Ham and Wolves). One unproven in the Premiership, and the other proven in quite the opposite way you would want from a new signing. Southgate is also alleged to have tried to replace the big, fat, goal scorer with Mido or James Beattie. Well, two out of three ain't bad. Having failed to land either of these two (or Alan Smith, oh dear, Gareth!) Southgate has admitted there may be no more signings this summer (which is probably a good thing given his eye for a player) and that the back-up to the first team at Boro is "inexperienced".
If Boro are struggling at Christmas, Gibson's passion for the club will ensure that he will do his best to support the team in the January transfer window. Boro also have a decent defence. But if Yakubu goes it is hard to see where the goals will come from. Boro fans should prepare themselves for another disappointing season.
Or worse…