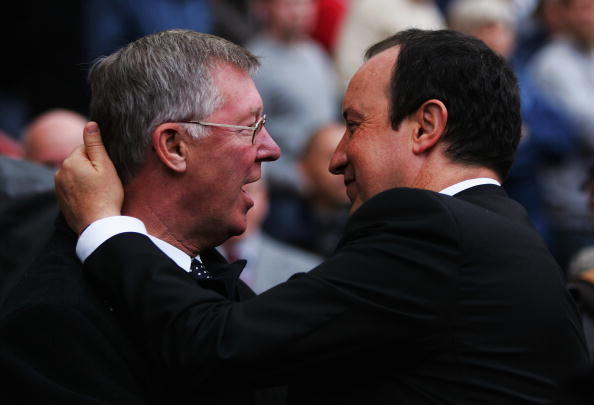 Peter reckons the Anfield badmouthing is a case of pulling the pigtails of the girl you like… or are worried about taking your trophies…
The new season is getting closer and closer and Sir Alex seems to be worried. The mind games have started already, the name calling seems to have returned and it can only mean one thing. The red-nosed Scotsman is worried that Liverpool will be challenging next season.
You can't help but feel the hypocrisy of his words as he claims Liverpool are opportunists in their attempts to buy Gabriel Heinze when Man Utd are playing the exact same game with Tevez and West Ham. It's all mind games and the new season hasn't even started which is the surprising thing. Mourinho also had a pop at Benitez attempting to put the pressure on before the season starts, claiming that Benitez has to match Liverpool's spending with results and trophies.
I can't help but think that both Mourinho and Ferguson are worried and are trying to unsettle Liverpool even though both whiners have strengthened their own squads substantially without really letting anyone go (Kieron Richardson doesn't count by any stretch of the imagination, if anything it's strengthened United!).
I think I speak for every Liverpool supporter when I say that I hope we stuff United and Chelsea this season and to be honest we haven't been in as strong a position as this since the summer of Diouf and Diao who were supposedly going to win us the league. Far be it from me to make predictions (yeah right) but this season Benitez seems to have strengthened substantially without really losing too much quality. Although a critic of both Voronin and Benayoun I've been very impressed with both in pre-season but what impresses me the most with the two other main transfers of the summer is that both Babel (19 years old) and Fernando Torres (23 years old) are not only for the short term but will be at Liverpool for a good many years. They've both played in big leagues and big tournaments so the switch to the Premiership won't be too daunting and with their unmistakable class they'll be firing on all cylinders sooner than most expect.
Before the summer transfer period began Liverpool were linked with 3 strikers, Samuel Eto'o, David Villa and Fernando Torres. Of the 3, weighing up their age, their size and their speed Torres seemed like the ideal choice. At 23 he's young enough as a striker not to have surpassed his prime and young enough to contribute at Liverpool for plenty of years to come. Size wise, he is ideal for the Premiership, in stark difference to David Villa who looks a bit lightweight, although how he uses his size will be vital to his survival. I think the most important attribute was the fact that he'd been captain of Athletico for the last few years meaning he had the whole weight of expectation of half of Madrid on his shoulders and although at Liverpool it will be a different kind of pressure, I'm sure that we'll see him express himself more freely.
Everyone has made a big deal about Liverpool's new signings but for me the most telling contribution will come from our captain. He hasn't had a break since 2003 after having participated in Euro 2004, Liverpool's Champions League qualifiers in 2005 and the World Cup last year. A refreshed and fully energized Steven Gerrard can win games on his own and that's something that was missing last season and many will struggle to find a more complete player in the Premiership let alone the world. On top of that it appears from the pre season friendlies that John Arne Riise has honed his free-kick taking abilities something that's been missing from Liverpool sides since John Barnes walked the fields of Anfield Road.
With all these factors in place Messrs Mourinho and Ferguson are correct to be worried. You can try and pass all the pressure to Liverpool but the truth is that the Champions are always going to be under the most pressure to retain their title and whether he likes it or not poor old Jose will always be under pressure to bring trophies to Chelsea as their Chairman is a power crazed billionaire.
One thing is for sure, come December 15th when Man Utd visit Anfield they'll be in for a hell of a fight!