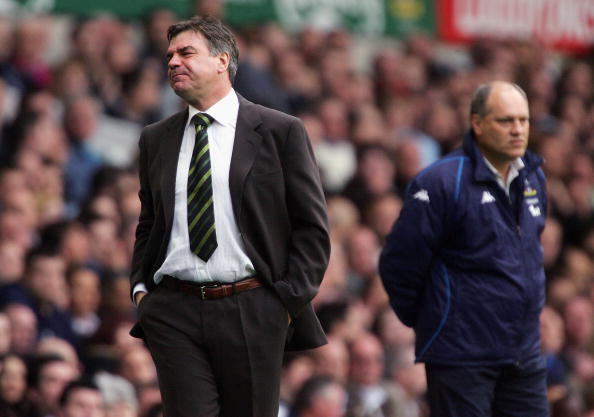 Lucas thinks time is running out for Tottenham and England.
I'd like to cover two things here. Firstly, something troubling to me as a Tottenham fan, and secondly, the fact that Sam Allardyce should probably be managing England rather than Newcastle.
At Tottenham we have a shedload of talent, which is great. But if we don't start picking up silverware, especially if we don't qualify for the Champions League, that shedload of talent is going to start emptying out pretty quickly. When the vultures that are the big four start circling, what, exactly, can we offer? We won't pay anywhere near what they can, and if we can't offer top-level football, I don't see what incentive the players will have to stay outside of some sort of beautiful, misguided Matt Le Tissier-style loyalty. (Or maybe whatever mental condition Jermaine Defoe has that keeps him at White Hart Lane.)
It's nice to think that this upturn in fortunes the last two seasons will just continue, and we can afford to be patient in our bid to break up the Big Four. But we simply can't, the window will shut as quickly as it opened.
We already lost Michael Carrick as soon as Manchester United came in. Chelsea have already launched bids to get Pascal Chimbonda into their greedy hands, and quite frankly, as a diver (Ricardo Carvalho) with awful hair (John Terry) he'd fit right into that backline. Dimitar Berbatov is rumoured to have a gentleman's agreement allowing him to leave after the season if we don't qualify for the Champions League. Aaron Lennon, if he gets his shit together, could well be a target for the clubs (do you really think Yossi Benayoun will survive as Liverpool's star right winger)? And of course, Michael Dawson, maybe the most underrated defender in the Premiership, will be attracting interest.
I don't want to be an alarmist, but I'll tell you right now that I'm terrified. I'm begging, begging, for a to pip someone to fourth. I'd hate to go the route of a West Ham, constantly coming up with players and then losing them to the bigger clubs. And I'd hate to go the route of, well, West Ham again and throwing money at the mediocre, whorish players who aren't quite good enough for the top four but want a big payday and delusions of grandeur. I'd hate to see Jermaine Pennants' mother in Spurs colours.
As for Sam Allardyce, if he does well at Newcastle this season the FA absolutely has to get him to manage England. If, and its a big if, he can prove that he's successful with a bit of top talent around him then he's realistically England's best hope of winning a major championship.
I know Bolton played a horrible style of football. I know nobody wants to see another brutal 4-5-1 formation, but that was merely what Sam had to play in order to get results. None of this mucking about with formations just weeks before a major tournament. The man is a spectacular man motivator and that's what you need on the international stage. You've got limited time to work on tactics and formations, but you've got the same amount of time as ever to give a rousing team talk.
England are crying out for a real manager. Sven-Goran Eriksson was just an idiot, And Steve McClaren was an idiot's right hand man. With any luck, The FA will wake up in time for Euro 2008 if England even qualifies. What they need, really, is a man who will tell the whiners to shut the f**k up and cut the crap out of the team. Frank Lampard, in this Allardyce-led world you have all the time in the world to eat pies. With Allardyce at the helm, England could at least stabilize themselves and stop talking about how tough Andorra could be. Besides, it's not like they have any dignity left to lose.