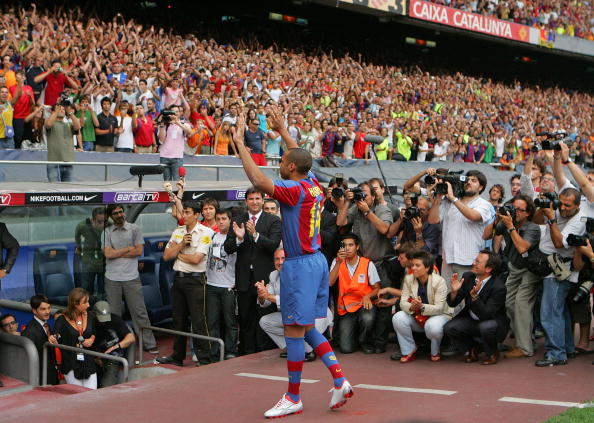 Thierry Henry's departure from Arsenal led to plenty of upset Gunners, both at the situation and at the player himself. It's never easy when a hero voluntarily decides he doesn't want to play for your club anymore.
But despite a bit of bad press, Henry has come out with some nice reflection of his time in the Premiership,
"I wish Arsenal good luck and I will miss everything – not only at Arsenal. I will miss the boos at Tottenham," said Henry who will play his second match for Barcelona in Saturday's friendly against Hearts at Murrayfield.

"I'll miss the games against Manchester United, I'll miss the Chelsea games, I'll miss all the stand out games. Playing in England was always amazing because the stadiums are always full, the fans are always singing."
It'll be interesting to see what Henry's next encounter with English fans will be. The most mental optimistic Spurs supporter might say that it will be a rain of bitter boos in the 08/09 Champions League, but the smarter money is probably on a hero's welcome to the Emirates. Or a rain of bitter boos.
Henry also took time out to call Freddie Ljungberg's mother a whore give his two cents on Freddie Ljunberg's comments about the club,
"Freddie's a grown man. He says whatever he wants to say," said Henry.

"Obviously I was here and I saw it on TV. It was the strangest thing going to play for West Ham. I wish him all the best.

"Everybody is always talking about the young team, this sort of thing, but a year ago we reached the Champions League final," said the 29-year-old.

"Last season so many key players were injured. I'm not trying to make any excuses for the club. I'm sure this year, with everybody back, Arsenal can compete for the league."
He's right, after all Henry saw the potential of this young Arsenal side and had enough faith in Arsene Wenger to once again reject a move to Barcelona didn't he?
He didnt'? Oh.