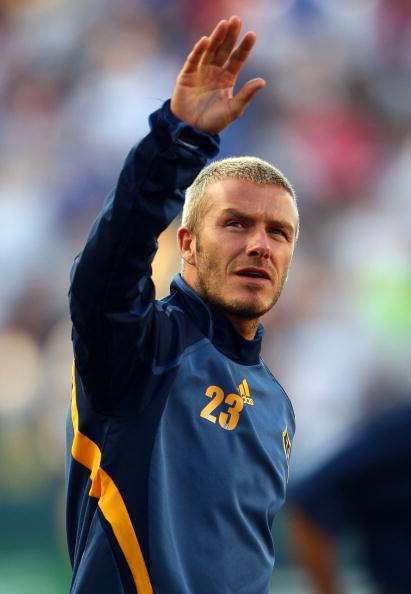 Edward doesn't have Beckham-mania. Not at all. Really.
It is highly frustrating, I flew back to the UK for 2 weeks and during that time ALL the major football news was happening in LA on the side of the pond I just left.
I like to think that whilst I was flying to London, David Beckham and his cultural attaché Posh were up in the air too, flying in whilst I'm flying out. There seems to be a lot of confusion in both countries as to what Posh and Becks have come over for; Posh isn't coming to LA to act and Becks definitely isn't coming over to play football.
At school I was a history boy, it was the one subject I loved and in some ways it is fitting that I am an Everton fan, our good fortune and success seem tethered to the past, history being my passport to these fertile Evertonian lands.
My favourite quote with regards to history is by Cicero; "Those that forget what has happened before them are doomed to forever remain children" … and boy are they forgetful here in the US. And the weirdest thing? This layer cake of deluded positive thinking all seems to emanate from Michigan. Alexi Lalas, was born and raised in the footballing tundra of Birmingham Michigan, and spouts nonsensical MLS hype with every breath. As recently as last week the general manager of Michigan MLS feeder club the "Bucks" said that Becks (and MLS) would be an utter success, after all "Pele was in his 40's when he came here"… when in fact he was only three years older than Becks….he continues to rationalize this by saying that "they all came over in the twilight of their career", as if that is any different from what is currently happening in the MLS.
In fact many parallels can be drawn from the Pele-led and defunct NASL, and the Beckham-driven MLS. Both leagues see one superstar as being integral to the success of soccer. However there are some stark warnings that many people aren't taking. Following the slow piecemeal success of the New York Cosmos they graduated to the huge Giants Stadium, in a playoff game of 1977 the Cosmos filled the stadium with an attendance of 77,691, a staggeringly huge amount of people. The first body blow to the NASL was the addition of extra franchises into the league, diluting the quality of the league and adding stamina sapping trips across this huge continent of a country. The death knell was television viewers, and although the playoffs were given a decent slot on television the viewing figures were not as high as expected, so they were cut from television, the lifeblood of any sport, especially an embryonic one.
If the MLS isn't to suffer the same fate as the NASL it needs to take a different course from the one it is currently on. Wage caps on each team mean that although good players can be brought in they take up a huge chunk of the teams quota for wages, meaning a Beckham on millions a year has to be balanced by other players in the squad who earn peanuts. In a lot of ways the MLS is mirroring the NASL, and if it follows that model too closely it will go down like a turd in a swimming pool.