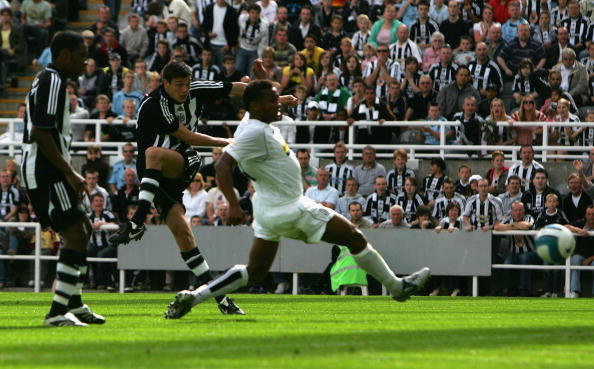 If there's one thing current Newcastle and former Bolton boss Sam Allardyce probably doesn't have the right to complain about, it's rough house tactics on the football pitch. Kevin Davies and the rest of Bolton's humongous thugs were well known for slapping smaller Premiership clubs about the pitch with elbows, knees and saliva. But after Juventus keeper Gianluigi Buffon attempted to kill young striker Andrew Carroll, Fat Sam was not best pleased,
"That was as bad as Harald Schumacher's challenge on Patrick Battiston in the 1982 World Cup," said Allardyce after the game.

"It was more like common assault than anything you expect to see on a football field. Andy was lucky not to end up in hospital.

"He is a young lad who must have been thrilled at scoring against a team like Juventus, but it could all have turned very sour for him."
In all seriousness, the tackle was pretty reckless. A win over Juventus even in pre-season is something to be proud of, while Andrew Carroll has looked like a player who could make an impact next season. A strong partner for Obafemi Martins when Shola Ameobi is injured for 9 months with various ailments.
Newcastle's summer hasn't gone particularly well so far, with Scott Parker moving to West Ham and Kieron Dyer looking a cert to follow him out of St. James' Park. Joey Barton is probably their best new signing but only replaces Parker like-for-like. Sam no doubt will be itching to get improve the squad, although he has plenty to work with if they can all stay healthy.