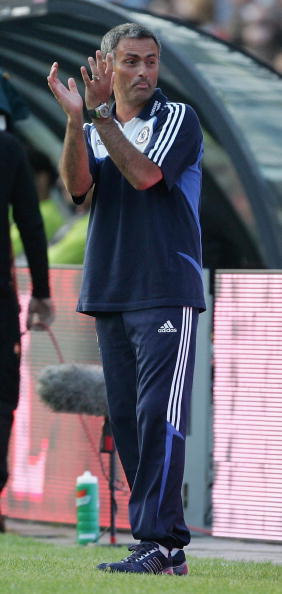 Dan thinks he's spotted the change that could give Chelsea the edge over Manchester United, Arsenal and Liverpool.
What's this? A COS world exclusive? Who have Chelsea bought? Ronaldhino? Kaka? Peter Crouch? No. Mourinho isn't about to buy anyone as far as I know. But he has announced a tactical change that could prove crucial in the race for the Premier League title.
"We will work our 4-3-3 with wingers, of course, and we will change our 4-4-2 with a diamond to a 4-4-2 with wingers."
The popular belief is that injuries and the signings of Ballack and Shevchenko caused Chelsea to lose the title last season. They were factors, but the formation they played was the biggest contributor to Chelsea being unable to reproduce the performances and successes of the previous two seasons.
Last season Chelsea played a 4-4-2 with four central midfielders. Lampard played a little left of centre, Essien a little right, but really there was no width to their play. The team's only two wide men were the full backs, but they were not given licence to push forward (just look at how Ashley Cole's game has become much more defensive since he moved from Arsenal to Chelsea). The result was a midfield playing on top of each other, making them easier to mark and a long, early ball to Drogba more likely.
Chelsea's central midfield congestion not only limited their attacking options but also left then vulnerable in defence. Opposition teams would work the ball out wide quickly before Chelsea's four central midfielders had time to come across to the flanks and cover, giving the opposition winger a free run at the full back. Arsenal used this tactic effectively in the first half of the Coca Cola Cup final, knocking the ball out to Theo Walcott on the right wing at every opportunity. Walcott was up against a quality left back in Wayne Bridge that day, so still had work to do capitalise on his possession. The season before, when Mourinho first used this formation in a big game, it was Harry Kewell v Geremi in the 2006 FA Cup semi-final between Liverpool and Chelsea. Chelsea had the edge over Liverpool in the league that season, but in the Cup game Liverpool switched the play quickly to Kewell and he was the most dangerous player on the pitch.
(Yes, incredibly he got himself fit for the end of season big game and the World Cup finals).
The fact that Mourinho was using four central midfielders at the end of the 2005-2006 season shows that the formation wasn't introduced to fit Shevchenko and Ballack into the team. Quite why he did introduce this formation though, is baffling. Perhaps it was frustration at what he perceived as the inconsistent form and defensive frailties of his wingers. But trying to mould players like Robben and Joe Cole to rigidly fit a system risks curbing their ability to produce the unexpected. Chelsea lacked a creative spark last season and the ability to beat a man, qualities that are hard to organise a defence against. Chelsea have always looked at their most potent when using two wide men, particularly in Mourinho's first season in charge when Duff and Robben were flying.
The use of wide men gave balance to Chelsea, stretching the opposition defence and not letting opponents simply get bodies behind the ball within the width of the penalty box. It also gave Drogba more service from crosses, rather than him having to make something of a long, straight ball which is easier to defend against. Drogba was exceptional last season for Chelsea, but too rely so much on one man is foolish in the long term.
Playing wingers either side of Drogba also allowed Chelsea to play three centre midfielders, which suited the strengths of Makelele and Lampard. Neither is suited to playing in central midfield in a traditional four man midfield with two in the centre and two wide. Makelele's deep-lying role and the fact that the offers little when his team are in possession gives his central midfield partner too great a workload: winning the ball further up the field and taking on all responsibility in the centre of the park for attacking play. Lampard's style of play is at the other extreme, playing so far forward that his central midfield partner has to take on all defensive responsibility and set up play and find space in the centre of the park.
Combined with Essien, however, Makelele and Lampard can do what they do best. With a midfield three Makelele can be Makelele and sit in front of his defence and never go forward and Lampard can be Lampard and sit in front of the opposition defence and never come back. And Essien can fill all the holes in-between, bursting forward, chasing back, winning tackles in the middle of the pitch, linking play between defence and attack, acting as the physio, managing the accounts, doing some HR and admin, maybe a Sudoku or two, and all the other roles he seems to fill in a game. And of course the two wingers can drop into midfield when Chelsea don't have possession and push on when they do.
Man U have spent a lot of money this summer and strengthened their squad more than Chelsea. But this season they are set to be up against the old Chelsea. The stronger 4-3-3 Chelsea. And beating them to the Premier League will be a lot tougher.