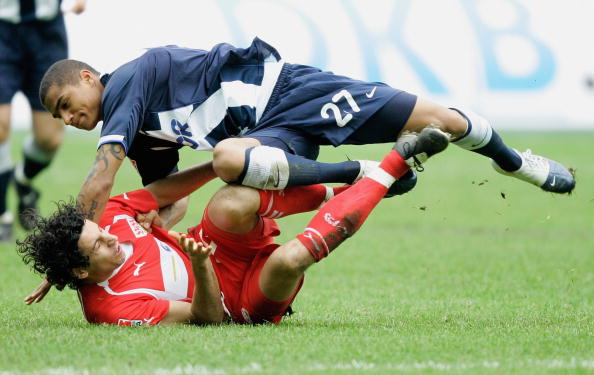 For the self-proclaimed "Ghetto Kid", lathered with hard and scary tattoos, new Spurs midfielder Kevin Prince Boateng is a tad bit sensitive,
"Spurs have a different attitude," Boateng told the Berliner Morgenpost newspaper. "They deal with young players differently and give me the feeling of being wanted. I did not have that in Berlin.

"I think that Hertha know my departure is a loss for them. They just don't want to admit it.

"That is what hurts me the most, that they can just let me leave like this."

"It (the club) is still close to my heart, but I do not have a good feeling about them.

"The ones who created an atmosphere have gone and soon there will only be soldiers at Hertha who stand up straight and nod their heads."
So he's not really big on discipline then. Lucky for him, we're pretty sure Martin Jol's training sessions consist of huge piles of marijuana, eating raw herring, taking turns cleaning the loos and setting off fireworks.
That's what's known as good research.