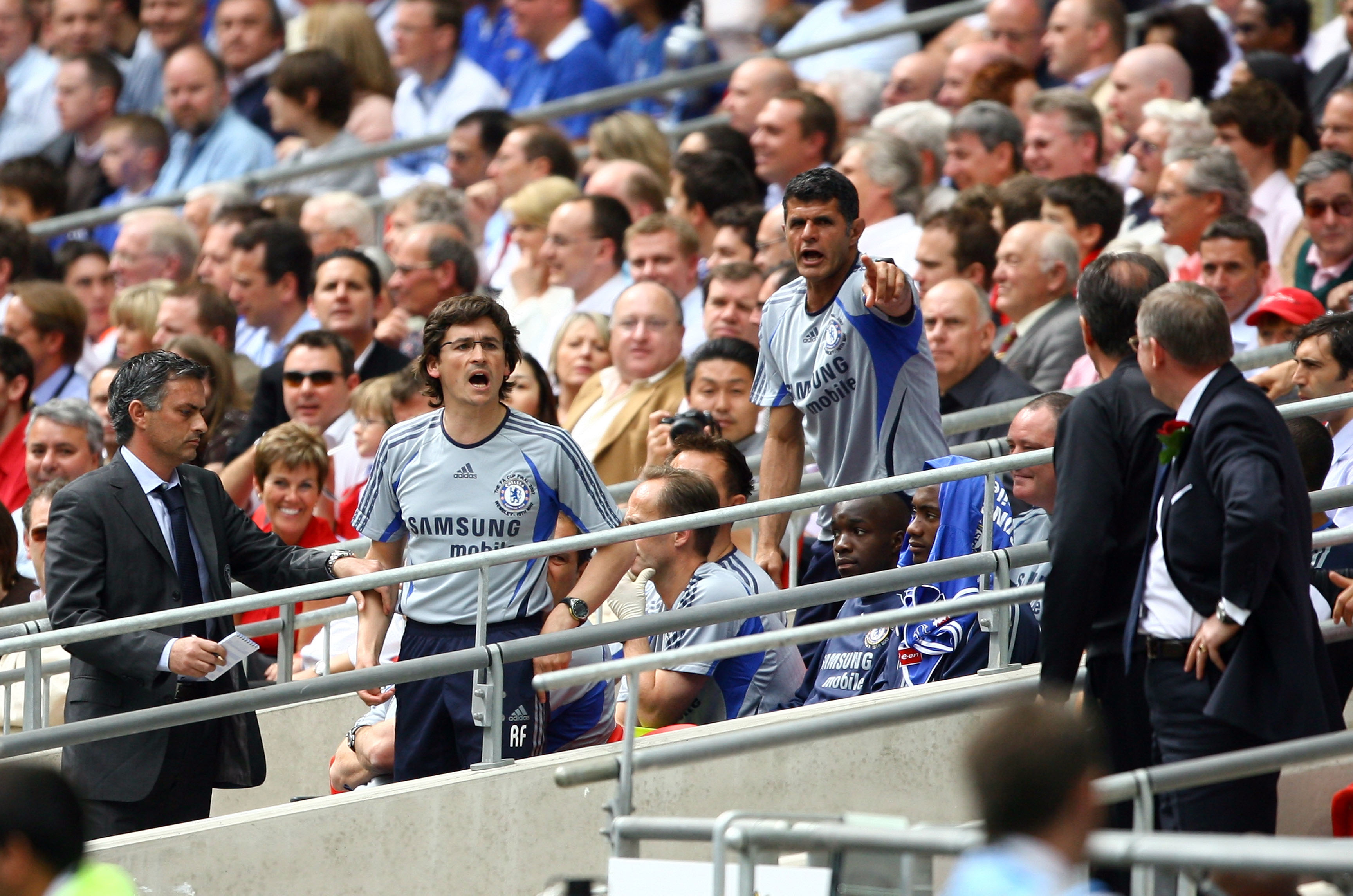 Daniel puts on his tactics cap again and breaks down Saturday's hopefully-not-meaningless Community Shield between Chelsea and Manchester United.
If you like a punt check out how to get A Guaranteed Profit On The FA Community Shield.

After the coma-inducing FA Cup Final only die-hard fans and those who are hungover and have nothing better to do on a Sunday will be tuning into the Community Shield match between Chelsea and Manchester United this weekend. So that will be most of us then.
With few thinking that the Premier League title will go anywhere other than Stamford Bridge or Old Trafford at the end of the coming season, the game could offer some clues as to how the two favourites will approach the new campaign.
Unfortunately injuries mean that neither manager will reveal their hand in this game and provide both with a ready-made excuse when one of them loses and gives a sour grapes post-match interview. Chelsea in particular have a number of injury worries. This week Steve Clarke said, "Wayne Bridge, Michael Ballack and Salomon Kalou are out but everyone else is in contention." However, there are injury concerns about John Terry, Andriy Shevchenko, Arjen Robben, Michael Essien, Claude Makelele, Paulo Ferreira, Lassana Diarra, Ashley Cole and John Obi Mikel. Summers used to be a chance for players to recuperate and build their fitness up, but given Chelsea's long injury list their preparations seem to have involved entering their players into a Royal Rumble. Paul Scholes, Louis Saha and Ole Gunnar Solksjaer are all out for Manchester United, Gary Neville is not expected to play and Carlos Tevez will not be in the squad.
So how will the teams line up?
The key change for Chelsea this season is not so much personnel as formation. Mourinho has announced that he will ditch his failed four central midfielders system of last season and play either a 4-4-2 with two wide men or a 4-3-3. For a man who has repeatedly said that he feels the key to winning games is the centre of midfield battle where superiority in numbers is a massive advantage, it is unlikely that Mourinho will play 4-4-2 with two wingers against tough opposition such as Manchester United. Instead, expect to see this more attacking formation used against weaker teams, particularly for home games. For harder to win games, Chelsea are likely to revert to the 4-3-3 formation that served them so well in Mourinho's first two seasons and which suits their midfield players (see 'Mourinho Set to Make Best Move of the Summer' from earlier in the week). For this match those three midfielders could well be Mikel (in a season where he will confirm his rise in the pecking order above Makelele in the holding role), Essien and Lampard, with Sidwell filling in if any of these players are not on the field. Up front, Malouda and Joe Cole are expected to play either side of Drogba and in defence Ben-Haim will play if Terry or Ashley Cole is rested.
Fergie has made predicting the Man U team much easier by saying it will be the same side that lost 3-2 to Inter Milan in a friendly: Van der Sar; Brown, Ferdinand, Vidic, Evra; Eagles, Carrick, O'Shea; Ronaldo, Rooney, Giggs.
Manchester United are not nearly as threatening when they play a front three. It is a tactic Fergie used in the FA Cup final and against Milan in the Champions League semi-final. He felt he needed an extra man in midfield, but in doing so he severely blunted Manchester United's attack and consequently its midfield spent most of the game having to defend. The key problem here is that Rooney is not suited to the lone striker role. He has shown that in his performances for Manchester United and England. Rooney's best position is as a deep lying striker, and he is excellent in that role, but on his own it is hard to see him troubling Terry and Carvalho. Consequently, United could become reliant on Ronaldo. It will be interesting to see which flank he plays on. Ashley Cole has always played well against Ronaldo because, with the pace he has, he can afford to try to win the ball early against Ronaldo knowing he has the speed to recover his position should he not win the initial challenge. Chelsea's right-back position is far less secure and either Giggs, or Ronaldo if he is switched to United's left flank, should offer United's best chance of success by attacking Chelsea's weakness here. Essien could be asked to double up on Ronaldo to help his full-back and Mikel (or Makelele) will play an important role in marking United's attackers as they drop off and look for space, particularly Giggs.
At the other end of the field it will again be an attacking three versus a defensive four, but the key difference is that Drogba, unlike Rooney, is suited to the lone striker role. He won't be able to bully Vidic as he does so many centre backs and Ferdinand's speed should help guard against Drogba stealing in behind the United back line. However, Drogba's strength and movement will keep the United centre backs occupied. This will leave a straight battle between Malouda and Brown, and between Joe Cole and Evra. Brown has talent but he makes too many mistakes for a top class defender and his positioning can be suspect. Evra is a great attacking full back, but his desire to get forward at every opportunity leaves a gap behind which can be exploited. In the league game between Manchester United and Liverpool last season at Anfield, Liverpool constantly knocked the ball into the vacant left-back area where Bellamy ran wide and pulled Vidic with him. Vidic is an excellent centre back, but if he can be drawn wide his lack of pace can be exposed. Expect to see Drogba drift into the gap between Evra and Vidic and try to isolate the Serb into a foot race.
It is in the centre of midfield that I expect this match to be won though. If this contest is Mikel, Essien and Lampard against Carrick, O' Shea and Eagles, then Chelsea have clear superiority. The Chelsea trio are stronger, more mobile and much more used to playing as a three. Carrick is a world class passer of a football, but he does not impose himself on matches and can go missing against strong teams. O'Shea and Eagles are simply not good enough to play in midfield at the top level. United's best hope could be if Sidwell plays instead of or comes on for Essien or Mikel as this will give United a bit more time on the ball. This game is made for Owen Hargreaves. Manchester United were the best team in Europe last season at blasting weaker teams, but against the best teams in England and Europe they struggled to win possession in midfield. Winning possession is Hargreaves' strength and he could play a crucial role helping United compete successfully in their toughest games in England and Europe. If he comes on in the second half of this match, expect the midfield battle to be more even.
If Manchester United play a 4-4-2 or 4-2-3-1 with Saha as the out-and out striker and Hargreaveas playing with Scholes in central midfield, they have the best team in the land. But this weekend is set to be a battle of the 4-3-3s and Chelsea have the players better suited to this formation and a much stronger midfield.
Want to respond to Dan? Submit your own article to editor[at]caughtoffside[dot]com or just leave a comment.