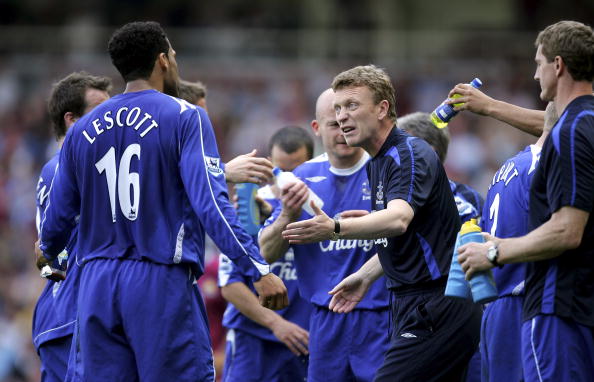 Edward is finding out just how cyclical football can be for an Everton fan.
I am always in two minds about my beloved club, a few days ago I posted an article brimming with confidence, but for Evertonians like me this confidence is very brittle. David Moyes has improved Everton no end, but he also has developed a worrying pattern of overreaching success followed by under-performance in the next season. We are a yo-yo club , not in the Man City sense but in that in current years we mount a brave and lionhearted Agincourt-esque campaign , succeeding against the odds with our anorexic squad and paupers budget – and the next year we are a damp quib – our defence becoming porous and Rumsfeldt-esque.
Things started going south for me when Kenwright started telling absolute porkers – his finest being that "Wayne Rooney isn't for sale at any price". There is also a suspicion that "Blue Bill" puts in small and derisory bids for big players knowing the offer will be rejected, only to turn to the Everton faithful and say "we tried to sign X". Armed with the knowledge that we tend to have a poor season after a successful one, Moyes seems to be ramping up for our charge into the Championship, Moyes isn't cutting any corners either – our meticulous preparation for coming league and Uefa cup runs has involved bringing in Phil Jagielka from Sheffield United, Pienaar from Ajas , and maybe Leighton Baines from Wigan…while watching our toilet-paper thin squad dissolve into the maelstrom once Wyness and Kenwright apply a firm "flush".
Cahill is out with a recurrence of his foot injury , Vaughan is crocked with a bad dislocation and Beattie is on his way out , making our squad even smaller – genius! Alan Smith has moved to Newcastle today, now that Cahill and Vaughan are crippled Moyes obviously doesn't think we need him either. Many people will say that it isn't totally the fault of Moyes, that the "money men" at Everton have a lot to answer for too but if he knows that he has no dosh then why sell/release players – he should be fighting for loan signings too, Vogel and Szelta could be ours for minimal outlay. The Manuel Fernandes "saga", which involved Moyes coquettishly flirting with the idea of buying him, now seems like an utter fantasy, an attempt to spoon-feed the Everton masses with a "possible signing".
As we become accustomed to our managers, like a pair of worn-in football boots, the doubts slowly start creeping in. In the end a manager is defined by a few, often apocryphal, snapshots from the past. Alf Ramsey – '66 and the wingless wonders, not joining in for the celebrations; Graham Taylor – "Do I not like that", uttered just before England conceded a goal to the Poles. Elton's best mate, a turnip impotently subbing off Lineker; Walter Smith – 11 men behind the ball from a corner at Highbury; Steve McClaren – the man whose biggest achievement so far has been to turn his mahogany hued teeth a pristine white.
This summer Moyes has contributed to his snapshot. Up until now it had been positive for me , Unsworth scoring withing minutes of his managerial debut, Rooney firing in his magical first goal, Moyes dancing jubilantly on the touchline and later sipping Champagne after our 4th placed Icarus season – July's addition to this gallery was of two missed chances; Alan Smith going to Newcastle, a hardworking player who can play multiple positions and who "wanted to join us" , just like David Nugent and Joey Barton who ended up at Portsmouth and Newcastle. The fact that even the Vogel transfer has been frozen because his former club are holding out for a nominal fee (surely 500k would capture him) shows us that Moyes either has an even smaller war-chest than we expected , or that he is being far too timid; the "Dithering Dave" moniker has never seemed so approriate.
Our minds hoard these snapshots and when the person in question is mentioned we regurgitate these pithy descriptions of their managerial abilities, however, in our minds these memories warp and wane – so when they return to the surface they are copies of copies. In reality, hindsight isn't 20/20 , its even more skewed and bloated than the original, highly subjective, memory – these Polaroids of our past melt from the fire in our bellies. After every painful defeat these snapshots will bob around in the top of my head like gaudy buoys. Eventually all these memories blend into one lapidary nugget, often the epitaph to a career, and also often unfair;
* Walter Smith 1998-2002 – a fractured changing room, playing 11 men back for corners, Walter applauds Kevin Campbell like a Stalinist apparatchik whilst violent & puritanical Archie Knox attacks Gazza for being too fat, Stephen Hughes for being a timid cry-baby, and Alex Nyarko for "wasting our money!".
* Mike Walker 1994 – 10 months of tosh from the "Silver Fox" , in reality the John Major of football who left his East Anglian utopia, oversaw our miracle (thanks to Limpar,Horne, and Stuart) and wanted to buy the extortionate and ageing Muller whilst continually playing the ball along the back four.
* David Moyes 2002-??- a gruff Scot who hates nightclubs, flamboyant wingers, and who nearly gave us success but instead succumbed to his appalling policy of dour and non-existent signings – throttling the life out of our tight-knit unit.