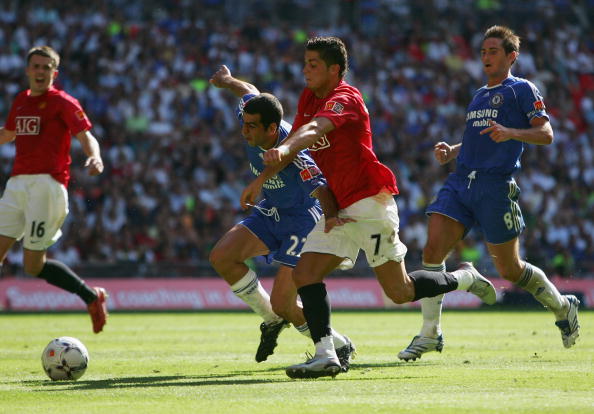 Mr. C still isn't quite sure what Chelsea and Manchester United put together on Sunday.
If it been a boxing match, the ref would have stopped it. Had it been a movie, the critics would have panned it and if it could ever be compared to woman it was an absolute minger; not quite the endorsement that Premier League big wigs would have hoped for this season's curtain raiser, but a fair reflection of the dog shit that was served up at Wembley Stadium yesterday afternoon.
They say lightning doesn't strike twice but having had to sit through the same drivel back in May; I was waiting for Bill Murray to pop up because if ever there was such a thing as Groundhog Day, this surely was it.
In hindsight maybe I was asking too much from this game, I mean lets face it both sides are chalk and cheese; Manchester United are the pass-and-move purists while Chelsea adopt the George Graham manual – careful, ponderous and inevitably slow.
One thing that has always amazed me about Chelsea is that given the real quality in their squad why they choose to adopt such tactics; is there any surprise that the technically gifted Ballack and Sheva have both failed at Chelsea.
The game can be best described as cagey; two sides showing far too much respect for each other, you would have thought it was a title decider out there given both sides lack of adventure going forward. Chelsea were obviously struggling without their big man Drogba up front to lump it up to I was hoping it would inspire a different approach from Jose, but its clear his tactical nous is about as limited as Steve Clarke's personality. I remember a time when the Charity Shield was a free for all; both sides going for the jugular to hell with the consequences. It is clear times have changed and both managers instructing their players to take it easy out there; hardly fair on the supporters who have paid good money to see this showpiece.
The Community Shield has come under a little bit of criticism over recent years about its purpose as a contest. It is fair to say it hasn't been much of a spectacle in the last few years, although some may say its because Chelsea have played in the last three, but I still feel the competition is important.
It is a landmark and gives us all supporters the realisation that the new season is just round the corner and given all drab summer sports like Cricket, Tennis and Athletics that have flooded our papers and TV – we now have football back in our lives for the next 10 months.
Somebody pointed out to me in the pub that todays game summed up what the Premiership has become, but I like to think there are enough sides that play football the right way to maintain the Premiership's reputation as the most exciting league in the world.
It is just a shame this game didn't do it any justice!