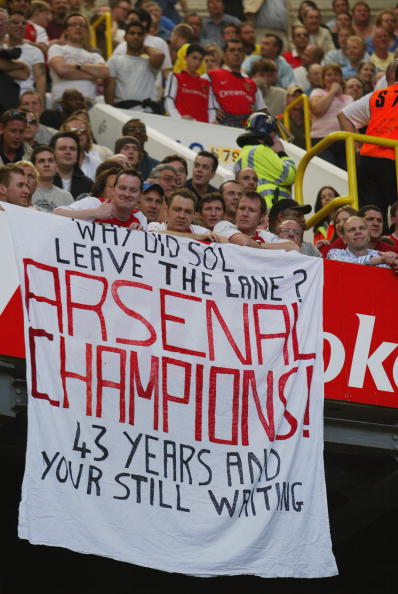 From The Terraces publishes UNEDITED submissions we receive from you, the readers. It's your chance to show us how this football blogging is done right, or to embarrass yourself and your ancestors.
Simply write to: editor[at]caughtoffside[dot]com.
This time, COS reader and Arsenal supporter Kitson responds to Mr. C's article "Nobody Likes Spurs, And We Don't Care" with a message of peace, and a little aggro at the end.
What a cute article….& it gets even cuter with all the arguments & counter arguments…
Are you kidding? Winning the EPL? You gotta beat the defending champion to do that. Do they look beatable to you?? And this coming from a non Manchester United fan.
So what's your point in the first place? Regarding Hammers & Evertonians digging Spurs? But you're doing exactly the same digging into Arsenal, you get it?
Respect begets respect. You gotta respect other clubs first instead of constantly digging them, especially the fans of lesser clubs that you mentioned. They stick with their beloved clubs just like you with Tottenham, no matter rain or shine.
The main victim of most of the counter arguments is Arsenal. No English players; seems to be the main
battle cry. Are they to blame or is it a blinkered view about the technical quality of young English players available? Good established home grown talents are either overpriced or kept in the vault in their own respective clubs. To be fair, Arsenal paid a lot of dough for Walcott. To be even fairer, Arsenal contributed a lot to the development of many promising English youngsters. Those who cannot gain a first team place at Arsenal are sold/walk-for-free to other clubs to fulfil their destiny….Sidwell (Reading/Chelsea), Pennant (Blackburn/Liverpool), Bentley (Blackburn) etc.
Arsenal certainly did not restrict their development & career by letting them blossom at other clubs. Could the same be said of Chelsea? Think of SWP. Their transfer policy seemed to be using their cashloads to buy up talents even though they're a surplus to their requirement. Their objective is to prevent other clubs access to such players. As such, they actually kill the career of so many young players.
So why are all the chidings about Arsenal with regard to the absence of homegrown English talents? At least those who don't make it to the first team or those who can't wait for their chances are allowed to leave. Arsenal did not hold back their development & this benefits many other clubs.
It's good for fans to be optimistic about their respective clubs but I think it can be done without chiding/digging other clubs & certainly should be done without disrespecting the fans of other clubs.
MU fans certainly have the most optimism with Hargreaves, Tevez, Nani & Anderson being new additions.
Chelsea – Malouda, Sidwell, Pizarro, Tal Ben Haim. They are a strong team who are able to grind out results & they have an equally strong 2nd team
Liverpool – Torres. Voronin, Benayoun, Leiva, Babel
Spurs – Bent, Boateng, Younes
But the most interesting development of all is Arsenal. So much is at stake with the dismantling of the Unbeatables & yet it does promise so much more excitement with the raw talents there. All so promising & may yet surprise. Could this be the 2nd generation of The Unbeatables? We know that visionary Wenger is such a pragmatic manager & couldn't stop wondering if he could have unearth the next generation of Henrys, Pires, Overmars etc with a fraction of the top 6 clubs transfer budget.
Then again, all the promises may come to nothing when games start coming hard & fast. Hard as it may to swallow, I guess this wise adage is applicable to all teams in the Premiership with the exception of MU & Chelsea. No matter how much has been spent in every other teams from Liverpool, Arsenal downwards… all are just promises & chest beating. The truth will be revealed in 6months when we start to know who is actually making a fool of themselves HERE, who is made to eat their words & probably who will have the last laugh.
Once the truth is known in April 2008, THE WHOLE PROCESS OF CHEST BEATING WILL START ALL OVER AGAIN FOR THE NEXT 2008-2009 SEASON…..irony isn't it? And for Spurs case, this has been going on since Vietnam War. Everton? Hammers? Optimism or pure delusion? Time will tell, the future will unfold….
Bring on August 11th…