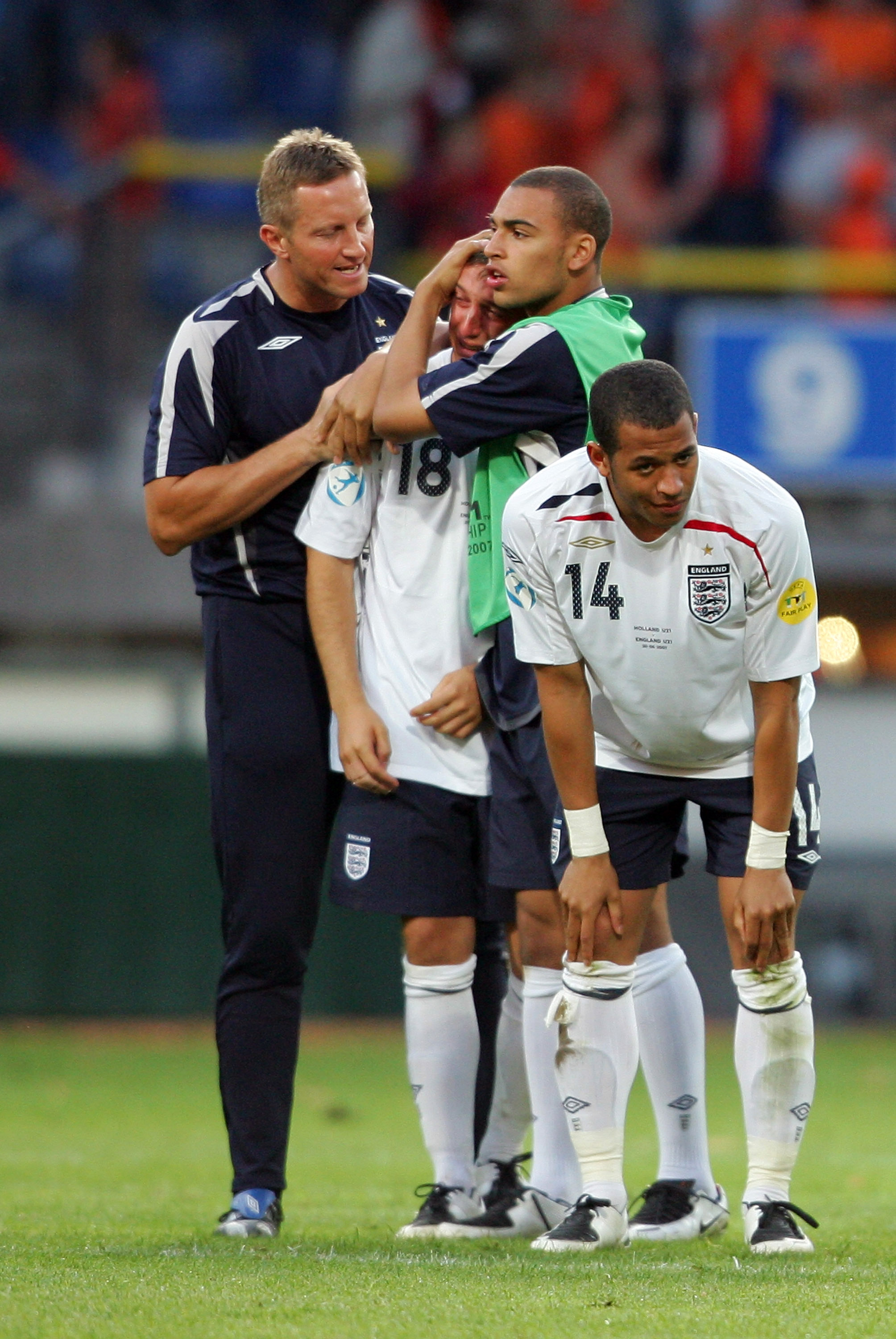 Lucas thinks that England's problems go far beyond whatever fool happens to be in charge.

After watching England at the Euro U-21 Championships, it's occurred to me after a long while that England are going to have a pretty tough time on the international stage once the "Golden Generation" as it were, gets older. There were a lot of passionate players, for sure, which you love to see in the face of the senior side's consistently listless performances. Witness Reading striker Leroy Lita's "kid with Tourette's Syndrome goes apeshit in a department store" goal celebration – and you know they're putting a lot of themselves into the game.
What you don't see, of course, is a whole lot of skill or technique. These young players, far from picking up some flair and variety of play from the increased number of foreign footballers at Premiership clubs, appear to be most comfortable playing the simple "lump the ball up to the striker and see what happens" type of game. So I'm hoping to weed through the squad and identify, or at least make some vague suggestions, as to who might make an impact beyond the U21s.
So, here's who could realistically expect to earn a significant amount of caps from the senior squad:
Leighton Baines: One of the more underrated players in the Premiership, he's finally moved out of the obscurity of Wigan for the, ah, bright lights of Everton. He's excellent of set pieces, and should be listed as Ashley (TOSSER) Cole's backup, at the very least. Indeed, if Cole continues to have injury problems (it can't be easy, trying to balance being a top footballer and having that troublesome vagina of his) I would say that Baines should be penciled in at left-back for the Euro 2008 qualifiers.
Mark Noble: The guy is a goddam pit bull in midfield. This is important for England, as the holding midfielders they currently play are either ineffectual (Michael Carrick) or wildly overrated (Owen Hargreaves.) He could be a decent foil for Steven Gerrard, who likes to roam, or Frank Lampard, who can't find it within himself to move more than twenty yards at a time.
Matt Derbyshire: The Blackburn youngster isn't really fast, or technically skilled, but he can poach goals, and I don't really see that from any of the strikers England have been able to rely on for form and fitness recently. An odd inclusion, maybe, but he's the type of player who will definitely get better with age and experience.
Three players, then, in my opinion, who have the quality to be regulars in the national team. This is something of a depressing fact, as you need eleven to field a full side. The main problem is that there doesn't seem to be a realistic plan for the U-21 team as a feeder for the senior team. The FA seems to look at it as simply an exhibition squad, and makes no effort to put in any sort of continuity with coaches or tactical setup that would help mold the nations most talented into class players ready for the next level.
It's easy to see that the same teams are contending in the U-21 tournaments every time around. Italy and the Netherlands, to be specific. These teams have the same coaches for years at a time and attempt to play with a similar style to the senior teams, grooming their best to be the best. The Italians dive and complain, and the Netherlands play stylish passing football, although it should be noted that the Dutch youth squads don't seem to share the senior team's propensity for disappointing losses and chronic underachievement.
In the end something must be done- a legitimate strategy must be concocted, as there is no way England can survive on the international stage without a viable feeder program for the main squad.
And 'hoofing it up to the big man' doesn't count.