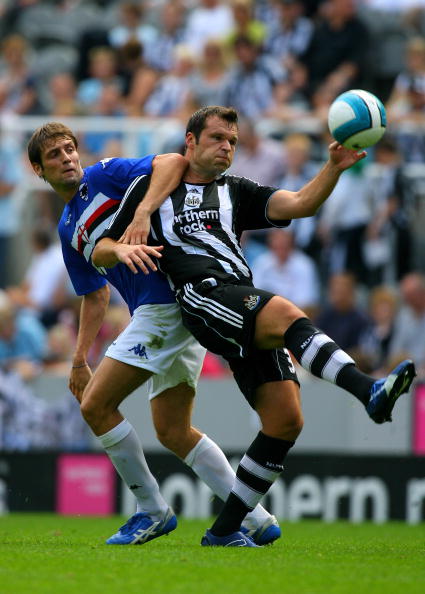 Daniel brings you his top picks from the Premiership transfer window so far, with Chelsea, Liverpool, Newcastle, Manchester United and West Ham amongst the unsurprising big winnners, but Fulham and Bolton have done a bit of good business as well.
Who has been your best transfer(s) of the window so far? Slap them in the comments.
---
Tal Ben Haim – Chelsea (free)

---

Steven Davis – Fulham (£4m)
Steven Davis started the 2005-2006 season as a relatively unknown 20 year old player, who had yet to establish himself as a regular in the Aston Villa side. At the end of the season he was both the club's and fans' player of the season and Northern Ireland's youngest modern day captain. At the end of the 2006-2007 season Steven Davis was sold to Fulham. On paper, the combination of this young, talented, hard-working Northern Ireland player with a former talented, hard-working Northern Ireland player as his manager should have been a match made in heaven. But Davis's performances dropped last season under Martin O'Neill's stewardship and then he was dropped to the bench. There appears to have been no suggestion of Davis suffering from the bad attitude that young players can sometimes develop if they quickly gain a lot of positive recognition. Lawrie Sanchez is a big fan of Davis from his days as Northern Ireland manager and if Davis can recapture his 2005-2006 form it will be a major asset to a Fulham midfield that needs his drive.
---
Yossi Benayoun – Liverpool (£5m)
The big money signings of Torres and Babel have grabbed the attention, but the acquisition of Benayoun could prove to be the most influential of Liverpool's summer transfers. Firstly, Liverpool have lacked quality wide midfield players for a long time. They have also proved less effective than Man U, Chelsea and Arsenal this decade in breaking down teams who get ten men behind the ball and set out to get a goalless draw. Benayoun's ability to drift inside from wide positions into the spaces in-between the lines of defence and midfield (an area Benitez believes is crucial in winning games) and play the killer pass promises be a great new asset to Liverpool. Also, Benayoun's likely starting position is right midfield. Therefore, Liverpool might not just benefit from what Benayoun can give them, but also from moving Gerrard into the centre of midfield. Gerrard is happier and more effective in central midfielder. And when Gerrard is on form, Liverpool are a much better team.
---
Against most teams last season, United were excellent and deserved to win the Premiership. However, against top sides they often came out second best. Milan, Chelsea (in the second half at Old Trafford), Arsenal and Liverpool (at Anfield) all loaded the midfield when playing against them. Arsenal and Milan passed around them, Chelsea and Liverpool out-muscled at them. The first choice central midfield partnership of Carrick and Scholes didn't have the ball-winning ability or physical presence to win enough possession in these games, and neither O'Shea or Fletcher proved capable of filling this role. Hargreaves has a great engine, is one of the best in the business at winning the ball for his team and has proven he has the mental strength to be very effective in the biggest games. Not only has he won the Champions League with Bayern Munich, but he has also triumphed against the odds for England. In the team's first game at the 2006 World Cup he was booed when coming on. In the team's last game at the World Cup he was the only successful English penalty-taker and named Man of the Match. He also went on to win both England Player of the World Cup and England Player of the Year. Carrick and Scholes are still very capable of supplying the ammunition for Man U to win most games, but in the really big ones, Hargreaves can give Man U the steel they've been missing.
---
Mark Viduka – Newcastle Utd (free)
This has the potential to be the signing of the summer. No-one quite knows yet how Big Sam will organise the Newcastle attack – he's used two up front in pre-season but preferred playing two wide players either side of a target man at Bolton – but few doubt that Viduka will be the key man in his plans. Viduka's appetite maybe more for meat-filled pastry products than hard work, but he still holds the ball up better than anybody else in England, has excellent close control and can score from all areas. The Toon Army have been waiting for someone to fill Shearer's boots and add to the list of great centre forward idols at the club. If Viduka can continue his goal scoring record of better than a goal every other game, the wait will be over.
---
Scott Parker – West Ham Utd (£7m)
If there is one thing a football journalist at a national newspaper loves more than a young, Londoner doing well at a London club, it is two young Londoners doing well at a London club. The Mark Noble-Scott Parker central midfield partnership at West Ham has the promise of pure porn for a Wapping hack. But Parker has the ability to justify the praise. At Charlton he was a goal-scoring midfield, at Chelsea he played the holding role and at Newcastle he was an all-rounder. Now that he is back in London and back with Alan Curbishley his development into a top player and a role best suited to his talents could be completed.
---
Christian Wilhelmson – Bolton Wanderers (loan)
All the signings mentioned so far are familiar to you, they've all proven themselves in the Premiership, so its time to take a punt on a player who is debuting in the English league. Wilhelmson is a Swedish international winger with lots of pace. He has proved very popular with fans of Sweden and his previous clubs because of his whole-hearted attacking style. Wilhelmson doesn't do risk-free backwards or sideways passing. He gets the ball and he goes at the opposition full back. Every time. He also has the nickname 'The Magician' and, lets face it, the Premier League is lacking in quality nicknames.