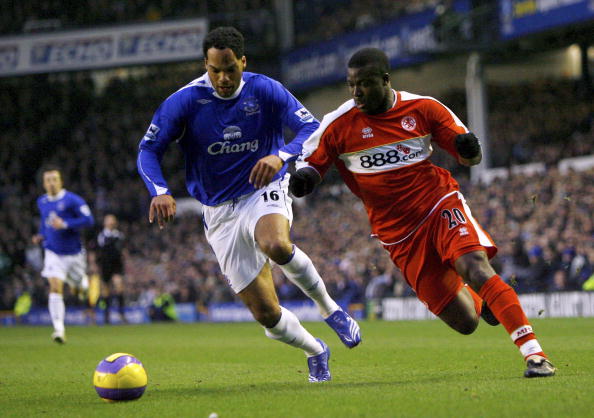 Edward is glad to see the Everton board throwing some cash at Moyes, but the struggle is far from over.
"Feed the Yak and he will score" …so goes the chant and with Everton's need to bolster their strike force Yakubu would certainly be a great signing. Perhaps Everton could kill two birds with one stone and feed the Yak all the extra Kirby stadium ballots that have been floating around peoples' mailboxes, thereby sweeping the ballot farce under the carpet, and getting lots of goals for the Yak. Failing that we could feed him James McFadden….
When I first heard of Everton's planned transfer splurge a few days ago I kept all my feelings to myself, my brittle faith in the blue boys is always ready to snap and most Evertonians simply didn't believe what they were hearing. Where has all the money come from? My first reaction was that there were two answers to this; either Bill Kenwright has robbed a bank, or David Moyes is on acid.
In fact it seems that Bill Kenwright has now been given additional financial backing from other board members, including the Planet Hollywood mogul Robert Earl, this has given Moyes a huge amount of money to spend. The main problem with this is that although Everton now have financial clout, they now find themselves in a poor position, like an American schoolgirl in dire need of a prom date. Moyes has already stated that he likes to have his summer signings booked in early so that they can complete a full pre-season program but more important than that is the utter reluctance of managers to sanction the sale of their star players.
Since Moyes has been given this money we shown interest in three players, who are all integral to their teams plans. Yakubu, who Gareth Southgate is violently opposed to the sale of, Lucho Gonzales, the Argentinian midfielder and captain of Porto, and Manuel Fernandes, one of the young jewels in Benfica's crown, who is also part-owned by agents, which could lead to a thick, murky morass of a transfer.
The tagline for the Richard Pryor film Brewster's Millions was "You don't have to be crazy to blow $30 million in 30 days. But it helps." By being given such spending power so late in the day, not only will these players come in late to Everton's pre-season plans, but we will disrupt other teams by trying to wrench these players away from their clubs just before the curtain raiser – making it all the harder to get them in. Yakubu has a great scoring record of .40 goals per game, and Manuel Fernandes has already won Goodison over, but to get them so late in the day?
Moyes faces a very tough task indeed.