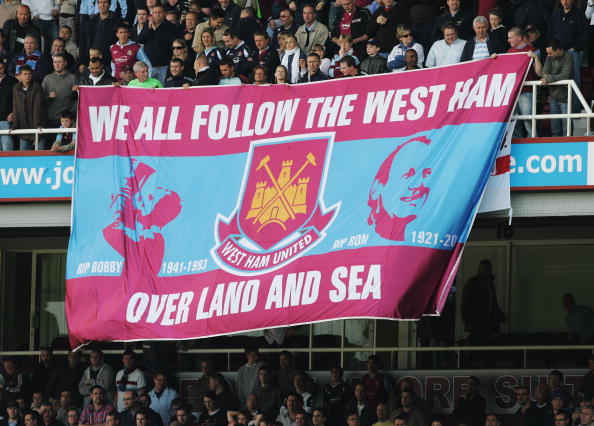 Effra does not feel refreshed and relaxed after a rather stressful West Ham summer.
When you feel like you've been living through another football season over the summer, the start of the actual season doesn't feel quite the same. After a summer of listening to whining and lies, waiting for the decisions of arbitration hearings and the High Court, frequent disbelief at an anti-West Ham media frenzy, fantasising about citizen arrests for Interpol, and last-minute transfer collapses, we West Ham fans have dispended at least half of this season's nervous energy already and that says nothing for the lingering damage to organs we didn't know existed from the rollercoaster of our truly miraculous escape last year.
Now, post-Tevez, here we are, about to go again. That virtually nobody now likes us is beginning to grow on me. Where every other media commentator going has us cast as the Premiership's bags-of-money impostors, the siege mentality that the Tevez saga has created at Upton Park might just be worth something. Just to remind the rest of you though: we didn't play an illegally registered player, we didn't break the Premiership rules on third-party ownership, we didn't' break a rule that other clubs committing the same offence had been punished for by point-deductions, and Carlos Tevez didn't play in all eleven positions on the pitch in the last nine games of the season. Kia Joorabchian, meanwhile, didn't have 'explosive documents', he has not let Manchester United buy Tevez, and he is wanted by the Brazilian police. (Daily Mail journalists in particular please take note.)
And as for our summer sins, we have not been the Premiership's big spenders. Elementary arithmetic says that £24M in expenditure and £22M in sales is in net terms £2M, far less than almost any other team in the Premiership. That we haven't spent enough and that there are some obvious problems (full-back, central-midfield, and striker cover) is what quite rightly bothers most West Ham fans. Sure we tried to spend a lot of money on Darren Bent, but I suspect that Tottenham, not anyone else, will have the last laugh there. If West Ham have distorted the transfer market this summer, it was getting Aston Villa to pay £8.5M for Reo-Coker, a player who everyone knew couldn't possibly stay at Upton Park.
After everything that has happened, heady optimism might be taken as a sufficient condition of mental insanity, and when Julien Faubert was knocked out for six months the feeling that we really have become cursed was inescapable. But there are some grounds for hope. We do have the spine of a good team, just one that at the moment that will get exposed by injuries in certain positions. Eggy appears to be a class act. We've always needed someone to symbolise our passion, and now strangely it's the chairman.
As for Curbishley, the jury is still out. In keeping us up as Charlton went down, he has vanquished Pardew's ghost. But now he's rid of Reo-Coker, Tevez, and Sheringham – the three players who, in very different ways, were in retrospect most responsible for derailing last season. So for the first time the buck properly stops with him. His willingness to sign bad boys actually encourages me, not because I am at all sure about the wisdom of having Bellamy or Dyer at the club but because it shows that he's not as risk-averse as his Charlton days might suggest. Much as we would all love it, there aren't another 5 Mark Nobles in the youth team just waiting for the chance to bring European football back to Upton Park. Football is as it is now, and Curbishley will have to succeed on its terms.
It's just worrying that whilst Eggy seems understand that as well as anyone, he hasn't been able to spend more of that biscuit-fortune of his on a few more players.