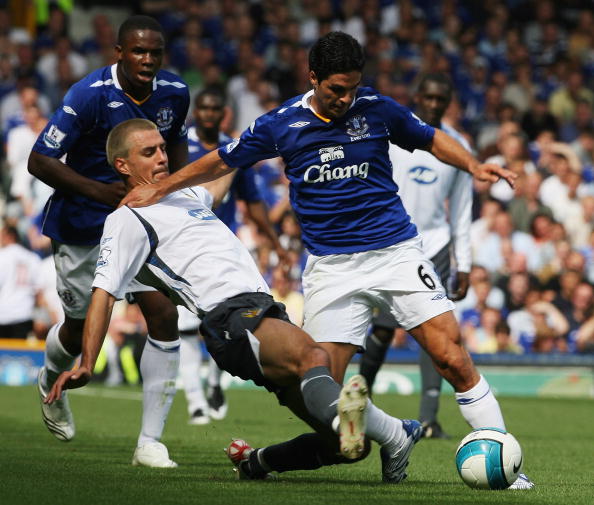 Edward brings you the first of his Everton match reports.
The first game of the season is often a worrying one, with occasional thrashings dispensed, and jittery defeats a definite possibility, but this was in the end a relatively comfortable win, with Wigan only flirting with a fightback for a few minutes.In the days approaching this game all thoughts were away from Goodison, to possible sites for a new stadium (Kirkby and the mythical "Loop site"), to the prolific Nigerian from the Riverside Stadium with the Barry Bonds physique, and to the "continent" – in search of a skillful partner to share some of the creative burden with Arteta in midfield. Before the game peoples eyes went to the skies, a small plane had been circling Goodison, urging the fans to vote against a Kirkby move.
But when peoples hearts and minds focused on the Goodison turf, it was two homegrown youngsters who ushered us towards victory. Leon Osman, he of the perfect touch and Belsen physique, opened up Wigan with a header and Victor Anichebe, a bellicose mix of power and brio, scored the second whilst the two returning prodigal sons, Leighton Baines and Phil Jagielka will have to wait to feature on the starting sheet.
Goals aside, the rest of the game was dominated by our skillful Spanish sapling, who for the umpteenth time outshone all others, indeed a sheepish Koumas was switched several times to keep him out of Arteta's flightpath. The Spaniards most memorable moment; weaving through a throng of Wigan players only to be felled by the heffalump Titus Bramble. His drive and vim to push "his Everton" up the league mountain will be the key to success this season. Next up for us is Spurs, and the worrying fact that for all but a few match-ups in this league, Spurs have been our "bogey team" – and they will be even more determined to clasp 3 points against us after an ego-crushing defeat against Sunderland.