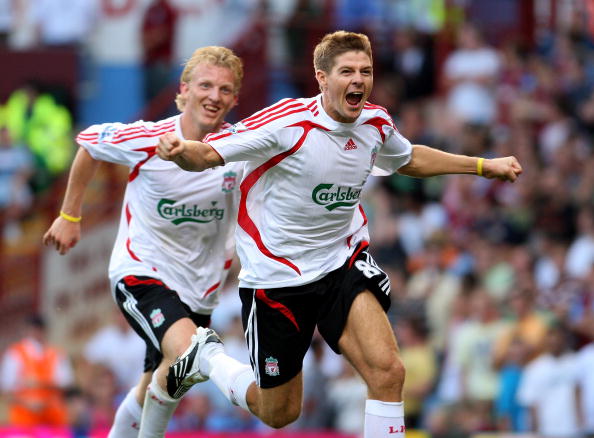 Peter isn't sure if a shaky 2-1 is a sign of lacklustre finishing, or the sort of bullish result that Premier League title winners are known for.
I can't remember the last time I was so excited by the arrival of the new season. The summer has seemed longer, mainly because there's not been a sub-par international tournament to keep us occupied. The weekends have felt empty. I hadn't quite put my finger on it until Sunderland kicked off against Spurs. Premiership football was back and maybe it was all the talking in previous weeks about who we all thought was going to win the league, who was going to finish in the top four or who was going to be the surprise package but it was a special feeling to have football back. I'm sure signing up to every fantasy league I could think of didn't help either but as the days ticked by I was worrying more and more about a first fixture of the season away to Aston Villa. As we all knew before the game started, Rafa hadn't won an opening fixture of a premiership season during his tenure at Liverpool and this season wasn't going to be easy for him. Martin O'Neill is a great motivator and with some decent players in the squad Villa were always going to prove to be a strong opponent. No-one likes to lose their first game of the season, especially at home.
It was always going to be a mystery to all of those outside of Benitez' small group of coaching staff what the Liverpool 16 was going to be. I think it's a testament to how much Benitez has strengthened the squad when you look at the subs bench and you don't even see Harry Kewell or Peter Crouch there. Of course we all know that Liverpool, like Chelsea and Man Utd, have a rotation policy and with a tough away game against Toulouse on Wednesday Benitez can afford to rest some players. I think the main surprise though about the starting line up was that Alvaro Arbeloa was starting at left back with John Arne Riise further up the field but as we saw in the latter stages of the Champions League last season this slightly more defensive minded set up was preferred away from home by Benitez.
Everyone was curious to see how the new boy Fernando Torres was going to fare and many Liverpool supporters were looking forward to seeing Steven Gerrard play in the centre of the park where he can cause the most damage. Although Torres didn't get on the score sheet he showed some glimpses as to why Liverpool paid Athletico so much money for his services and had one shot wide and another over the bar after he had carved openings from nothing. That's the one thing that has been missing from Liverpool for a long time, a striker who can create a chance from nothing, and although Torres didn't manage to capitalize on any of those chances I'm sure he will find his scoring touch sooner or later as the guy oozes class. Incidentally Liverpool took the lead after Torres couldn't quite make the most of an opening he made for himself after some slick passing from Liverpool culminating in a clever step-over from Dirk Kuyt. It was the Dutchman who kept the ball alive after Stuart Taylor had made a clever stop from Torres' shot and the hapless Martin Laursen couldn't do anything other than put the ball into his own net. It was the least Liverpool deserved from a first half that had been dominated by the reds with Gerrard in the middle conducting the performance.
The second half was more of the same although Liverpool were defending slightly deeper than the first half where they had pressed Villa into giving the ball away more than I'm sure Martin O'Neill would have wanted his home side to. It was a scrappy affair and Liverpool to be fair were lucky that Jermaine Pennant wasn't punished more for having a bit of a niggle at Ashley Young after he had been dispossessed. It was a silly thing to do, especially away from home as your side was in the lead and in control but Pennant lost his cool and was lucky not to get his marching orders. I'm sure that the Villa fans booing him for being an ex-Birmingham player probably didn't help his mental state but it's not the first time he's been booed and if he keeps reacting like that it certainly won't be the last. Benitez saw it fit to substitute the young Englishman shortly afterwards with another of Liverpool's new signings, Ryan Babel. If Babel can show the hunger and strength he did during his cameo yesterday at Villa for the rest of the season then it will certainly be 11.5m pounds well spent by Rafa.
Admittedly though the young Dutchman should have gotten on the score sheet after a nice pull back by Dirk Kuyt but he saw his effort whistle by Stuart Taylor's right post. Babel's miss paled in comparison to the sitter Steven Gerrard had missed earlier when he struck Craig Gardner right in the googlies with the goal at his mercy and it looked as if that miss would come back to haunt Gerrard when a long through by Villa from the left bounced in the area and with no apparent danger lurking, Jamie Carragher stretched out his arm to control the ball. Mike Riley had no other option but to give Villa the penalty. It felt like déjà vu again with us missing a host of chances and being made to suffer in the closing moments of the game as Gareth Barry confidently strode up to convert the penalty. 1-1 with 5 minutes of regular time left, I began trying to think of the positives to take from a game that we should have had wrapped up before we had conceded that needless penalty. But no more than 2 minutes later Steven Gerrard showed why Chelsea were willing to pay such an astronomical fee for him 3 years ago. He won a foul no less than 25 yards out, more or less central to the goal and hit an unstoppable curling free kick into Stuart Taylor's left top corner. Taylor managed to get his fingertips to it but it wasn't enough to stop the ball from going. It truly was an inspirational bit of play from England's vice captain who, not for the first time may I add, got Liverpool out of a tight spot in the closing moments of a game.
Although the goal doesn't have as an immediate impact as the one against Olympiakos at Anfield or West Ham at the Millennium, it could prove vital if Liverpool are to finally challenge this season. Despite some late pressure Liverpool managed to hang on at the end to give Benitez that first game of the season victory he had sought.
Personally I hope Saturday's game is an indication that we can win games that look like we're only going to get a point from and not a cameo of us missing chances and then being made to suffer the consequences. It's certainly a good omen that we've won our first away game of the season and it's still August as it took till December last season for us to finally win away from home. Villa away was never going to be easy but it's the sort of game you expect to win if you're hoping to challenge for the title but the big test will come next weekend when Chelsea travel up to Anfield. The early signs are good and another three points in a weeks time will give the players that extra bit of belief that has possibly been missing in seasons passed.