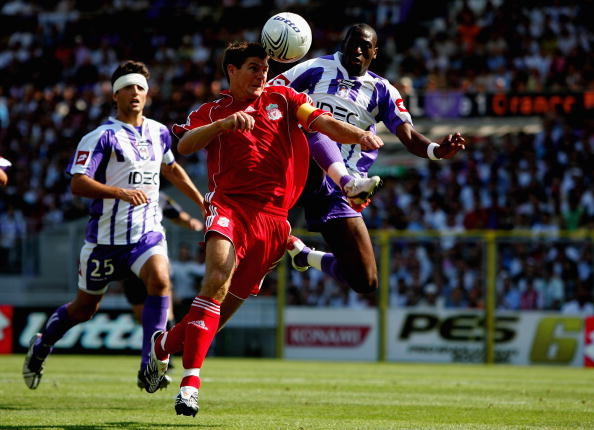 Peter runs the rule over Liverpool's Champions League romp, Chelsea, and how well the American's dollar has been spent so far.
Wednesday afternoon kick offs are rarities, but I'm always looking for an excuse to spend 2 hours in front of the TV watching my team play. There were concerns before the game that the heat was going to take its toll on the players with the Toulouse players claiming that we would wilt. Sadly for them it looked like it was their players who were suffering more, but that's what happens when you're chasing the ball for 90 minutes or so. I'm not going to paint a picture of a great game because it was far from that, it was quite excruciating at times and my mate who came over to watch it with me fell asleep during the 2nd half.
But with some games it's important to get the result and not worry so much about the performance (I hope that doesn't become my slogan this season). Crouch and Voronin combined well at times but nothing cutting edge, Babel showed flashes in the 1st half but was almost invisible in the 2nd, Benayoun was poor for his full debut and Gerrard didn't seem like he was too bothered. Credit the lads though, they got a result away from home in a tricky tie that has made the return leg a lot easier but not exactly over. The goal that won it was a beauty and Voronin should be happy with his first competitive goal for Liverpool as it was the highlight of an otherwise stale encounter. That said, the heat did play quite a large part in making the encounter what it was, as you could clearly see the players lacked any vigor and with a home game against Chelsea this weekend you could excuse some of the Liverpool from players being slightly distracted.
Liverpool are in the comfortable position right now of being above Manchester United, having played a game less and I know what most United fans will say but I'm glad of any advantage we get at any stage of the season. This Sunday will certainly be an interesting one with all of the top four from last season playing and only Man Utd haven't got at least a 1 in the win column yet. Manchester City away will definitely not be an easy one with City looking hard to beat (something you could say about all of Sven's teams) and with 8 different strikers on their books currently they could yet surprise Sir Alex and his men. Arsenal travel to Blackburn looking to get revenge for last year's FA cup exit at the hands of Mark Hughes' side and off the back of a tricky away win in the Czech Republic the momentum could be with Arsene Wenger's men, just look out for Hleb to score in the 90th minute again!
But the big one sees Benitez take on Mourinho for what has to be about the 93rd time Liverpool have played Chelsea in the last 3 years (or at least it feels that way). Victory over Chelsea never used to mean as much as it does now with Mourinho being back by Abramovich's millions. I guess dear old Jose knows how to rile up opposing fans but sadly for him it appears that Benitez has his number of late. Chelsea have some injury problems at the moment and there probably isn't a better time to be playing them, although last season at Anfield without a recognized centre back was a good time too. A week ago it appeared John Terry was going to be out till October, now he's back in training and will probably play on Sunday, something which leads me to believe that he's been cloned because honest to God during the Carling Cup final I thought Diaby had killed him. Not only did he get up and celebrate with his team mates but he went out drinking with them that night too. How do you explain that? He's can't be human and if he is then he's made of metal, there can't be any other explanation.
We have a few injuries too, the main one being Stevie G who could have sustained a broken toe in France after being stood on but hopefully it's just bruised and they'll pump him full of every legal drug in order to make him fit for Sunday. Other than that the only other absentees are Harry Kewell (shock horror) with a thigh tear and Fabio Aurelio who is recovering from an Achilles tear last season. I don't expect it to be a particularly exciting game, as most Liverpool-Chelsea games of late haven't exactly set the world alight with their attacking play but hopefully it won't be too cagey as it's still early doors in the season with all to play for.
Out of the new boys I have to say Babel and Torres have impressed me the most. Although Voronin and Benayoun are probably more consistent, Babel and Torres can make something from nothing which is what most fans appreciate the most. They're both young and still quite raw, more so in Babel's case, and although Benitez has his work cut out in making them the finished article there's something special about them that is evident even after 2 competitive games under their belts. Babel seems to be very strong on the ball, with a great burst of pace although his decision making isn't that great yet but with Torres you can see he has all the attributes to succeed in the English game, he has pace, power and a bit of retaly (in the words of Graeme Souness). If both can settle sooner rather than later we could be in for a treat this season!