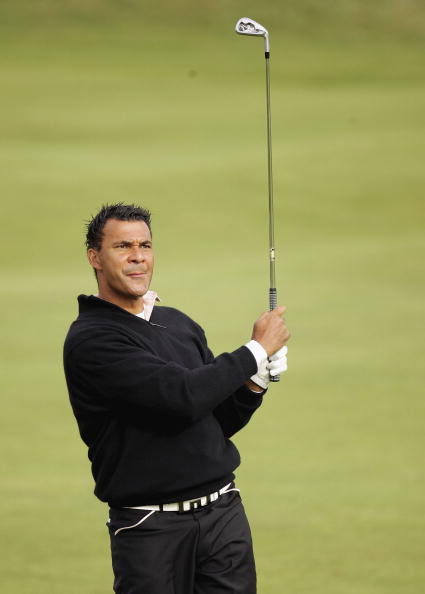 Daniel has heard enough about Everton's resurgence or Tottenham's plight, all he's concerned about now is what BBC and Sky are up to with their Premier League coverage.
After months of enduring people hitting a ball with a bat, club or racquet in the name of sport, it was a blessed relief to see someone finally treating a ball the way God intended – by putting their foot through it. And it wasn't just football teams whose fortunes were riding on their performances, the BBC and Sky were obliged to up their game too with new kid, Setanta's, arrival onto the Premier League block. It was critical therefore that the two more established broadcasters started the new season well.
On the BBC, Match of the Day's new look consisted of a new set and old blue shirt of Andy Pandy's with big, white pads on the shoulders, resurrected from the BBC wardrobe department and worn by Alan Shearer for the evening. Poor Alan. With Mark Lawrenson now established as Trevor Brooking's long-term successor, it appears Shearer has beaten the searing insight of heavyweight football intellectuals such as Ian Wright, Peter Schemichel, Peter Reid and Martin Keown, to claim the No. 2 pundit's chair alongside Alan Hansen. But Shearer's TV performances suggest that his straight-batting of journalists' questions during his years as a player was not a clever means of defence against the media, but just the response of a man who lacks charisma.
The BBC's evening schedule hadn't seen such a lack of emotion and facial expression since the last time it showed a Steven Seagal film. Unfortunately, unlike Seagal, Shearer couldn't redeem his wooden delivery with some remarkably low-speed martial arts on a Columbian drug dealer, or, saving that, on Gary Lineker. When Big Al did attempt something a little different with a self-deprecating joke about the way Michael Chopra celebrated his goal in a Shearer-like one arm salute, his outburst of personality was so unexpected that Lineker gave the kind of awkward, forced laugh that is normally only used by people who are sitting on a bus and asked by the local weirdo, "Where's the toilet?"
What irony therefore, that Shearer's old adversary at Newcastle, Ruud Gullit, was stealing the show on Sky at the weekend. There was none of the Match of the Day style old pals act in the Sky studio with Ruud in residence. He repeatedly dismissed co-pundit, Jamie Redknapp's, comments with the kind of contempt that only a former European Footballer of the Year, European Championship winner and multiple European Cup winner can show to someone who co-owns a Football Lifestyle magazine. But Ruud really shone in his handling of Dave Kitson's studs up challenge on Patrice Evra. While others thought Kitson a little unfortunate to be sent off, Gullit challenged the laws of the game by demanding a "double red card." (With his penchant for excess cards, could Ruud be the new Graham Poll?) Having called upon the authorities to string Kitson up with a six game ban, Gullit then marched to the tunnel area to deliver his own vigilante justice and had what the press (and therefore it must be biblical truth) have called a "furious bust-up" with Kitson.
What a wonderful new hardcore form of punditry this promises to be. Rather than using fancy camera angles, slow motion and digital trickery to highlight a player's mistake, Hansen & co. could let their fists do the talking and pummel the fool that had cost his team a goal. Shearer could really reinvigorate his media career if in the coming England matches he declined to say that, "Paul Robinson will be disappointed with himself there" but instead ran onto the pitch, kicked the bumbling England keeper square in the nuts and then climbed on top of the goalposts to deliver an elbow drop.
Gullit was joined by all the familiar faces on the Sky football team at the weekend. Ol' Chewbacca hands, Richard Keys, kept things tight, Andy Gray was spoilt for choice in who to call "The Big Man" in the Spurs v Sunderland game and Martin Tyler was, as ever, smoother than the other side of the pillow. It was such a shame therefore that this strong showing of old favourites was spoiled by a newcomer to Sky's coverage – the in-game score display. Laws older than the sands of time dictate that during a TV football match the score should be shown in the top corner of the screen. For this season though, Sky are displaying the scoreline in the BOTTOM left of the screen. That's right, not discreetly shown up amongst the fans, but covering vital pitch space. And boy, does it cover an area. Team names are abbreviated to just two letters but this protrusion extends an extra six inches before the score is displayed. Now in some areas of life, people will pay good money for a six extension to their protrusion, but not for a score display. At least the scoreline display provided some penetration from the left flank in the Spurs v Sunderland game, which is more than can be said of Spurs.
So why does Sky spoil the pictures it broadcasts with an unnecessarily large scoreline display in the bottom left of the screen. There is probably a perfectly logical reason for this, but rational thought should always be put to one side when the opportunity to start another Gary Neville conspiracy theory presents itself.
As discussed before, it is my firm belief that the reason Neville has played so many games for Man U and England is that his father, the sinisterly named Neville Neville, has compromising photos of Ferguson, Erikkson and MacLaren and has used these to blackmail them into playing his son. I can only conclude that Neville Squared has now used the same tactic on Jeff Stelling, getting snaps of him in a Bangkok ladyboy brothel that involve orifices, ping pong balls and Ronnie Corbett. Possibly. With Stelling forced to demand the new giant scoreline in the bottom left of the screen to save his career, right backs up and down the country will only have half a game to raise their profile and replace Gary in the England and Man U teams.
When you think about it, it's obvious.