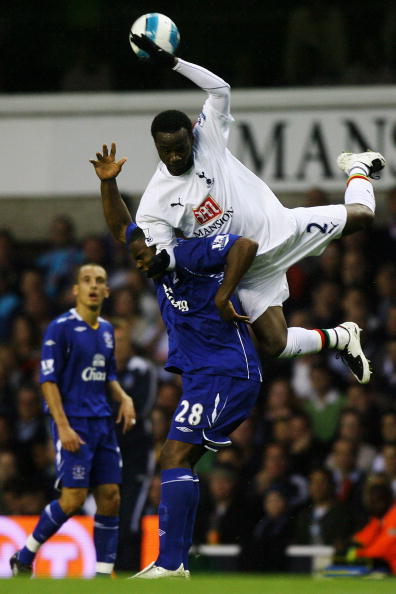 Believe it or not, Mr. C is calling for calm amongst the (more) rabid Spurs fans.
Vote for CaughtOffside as Best Sports Blog!
I don't need a weatherman to tell me when it's raining so I don't need to pick up a newspaper to know that certain quarters of the media will be over reacting to the Everton result as a sign that the wheels have fallen of the Tottenham Top Four bandwagon – kind of ironic since they were the ones that created it.
They say a week is a long time in football and although it seems all the early season enthusiasm has been shattered for many fans, we have to ask ourselves if we're really that surprised.
In all the years I have been following Tottenham; we have constantly had a poor start to the season which, in my opinion, has stemmed from having such an uncompetitive pre-season which always leaves us looking flat and completely off the pace once the Premier League season begins.
If anyone thinks a tour of South Africa and playing the likes of Stevenage and Leyton Orient is great preparation then fine; I believe beating poor opposition makes players complacent and believing their own hype, resulting the display against Sunderland where the side looked like they thought they just had to turn up to win.
I've made my views on Jol clear. So while it would be easy for me to jump on his back and produce a dossier of the tactical failings I have chosen to lay off the man for now, its unfair to judge him now especially with all the injuries that have decimated our squad. Of course, the team we put out against Sunderland and Everton was good enough to win on paper but history shows we always have a tough time against organised, tough sides who just out-muscle and out-work us.
Jermain Jenas and Anthony Gardner have become the early season scapegoats for our poor start while I can't disagree about Gardner; I find it hard to see why Jenas gets so much stick. He has to play alongside a headless chicken like Zokora – who certainly cant defend and offers nothing once a mazy run has led him into the final third.
You didn't have to be a brain surgeon last year to work out that these two cannot play together and you don't need to be Anne Robinson to work out the weak link of the two, but Jol persisted in playing them at the cost of providing any quality protection for our defense. Is it any coincidence that we were a lot more solid when Huddlestone played alongside Jenas in the centre? Maybe Jol should wake up to the fact that the lack of balance in midfield could be the reason we are conceding far too many goals as our backline, a makeshift backline, is horribly exposed…it needs addressing and fast.
Anyway I'm not going to get too upset with this week results; didn't we only win 2 of our first half dozen or so games last year and we still managed a top 5 finish in relative cruise control. Our squad when fit is vastly superior to anyone other than the top 4 and I fully expect it us to be there or thereabout at the end of the season.
Losing to teams like Everton is embarrassing but time to panic… not just yet.