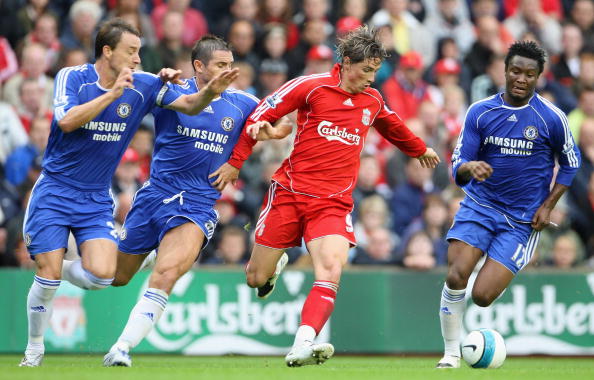 Peter is a tad upset about how Chelsea nicked a point from Liverpool.
What is it a person does when they feel they've been hard done by? Swear a lot and generally be in a horrible mood for the rest of the day/week/month? Go and play football and kick lumps out of people?
How is Rob Styles living with himself? Where did he see the penalty? Where? I can maybe understand being fooled by a clever player as he's touched and falls down claiming a foul, but Malouda jumped at Finnan. How does that constitute anything more than physical contact between two players? In such a vital game between two of the biggest teams in England, how does one man and one man alone manage to spoil it like that?
The one problem I see here though is that there is no way in hell that Styles is giving that foul for the visiting team at Old Trafford or Stamford Bridge, so why does he give it at Anfield? Of course referees are supposed to be impartial but home sides normally get the benefit of most decisions. It seems Mr Styles thought he was somewhere in London because some of his decisions were atrocious. Every time there was a foul or a questionable decision the Chelsea players were quick to pounce on the referee to put as much pressure as they could on him and in the end it paid off. No-one other than Rob Styles thought that it was a penalty and even now after seeing it on the TV he too must have come to the conclusion that he made the wrong decision. That doesn't stop Liverpool from being robbed of two points and it doesn't take the smug grin off of Mourinho's face either.
As you can probably tell I'm quite bitter about the whole situation and if it comes down to it and we lose the league title by an odd point I'll know exactly where to place my blame.
As a whole the game was pretty awful. There were little moves in the game that maybe caught the eye but nothing that was too sustained. That was to be expected as both teams more or less cancelled each other out. There were plenty of rough challenges going in and Styles was rather card happy but as usual he missed Obi Mikel's attempted retaliation which probably should have gotten yellow at least.
The main talking point would have been Fernando Torres' superb home debut goal as he ghosted past Ben Haim and placed the ball past Cech but what most people will remember is the penalty.
Liverpool did have a couple of half chances to possibly win it at the end but Riise's volley whistled past the post and his cross come shot was well saved by the legs of the giant Czech goalkeeper.
Chelsea really had nothing all game long other than being a threat whenever they had a set play. That said Claudio Pizarro probably should have scored, minutes after coming on from Shaun Wright-Philips' cross so they were grateful for Styles' timely intervention.
Liverpool's next two games are against newly promoted Sunderland and Derby, and even though there is talk that we can compete after playing better than Chelsea, it's our results against the smaller teams that will define our season. Here's hoping that refereeing decisions don't decide our fate.