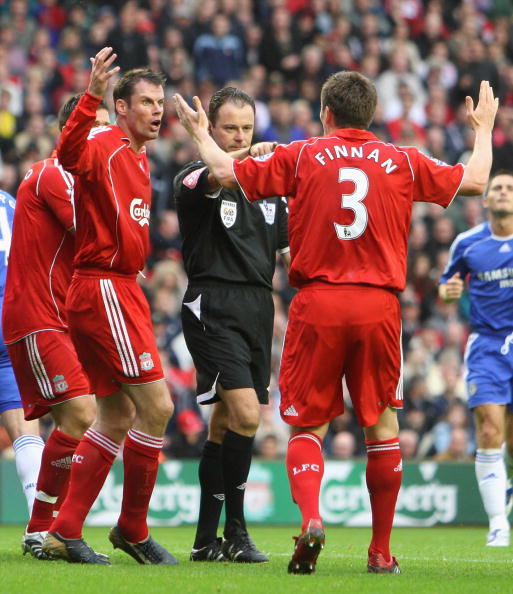 Referee Rob Styles is muscling in on the football headlines this Monday after a piece of off the wall refereeing, penalising Steve Finnan for a non-existent foul on Florent Malouda which undoubtedly changed the course of the Liverpool Chelsea game. The subsequent penalty was slotted away by Frank Lampard with metronomic efficiency, and the final result, Liverpool 1-1 Chelsea, seems disingenuous since it was Styles who gift-wrapped the Chelsea effort. Perhaps Liverpool 1-1 Styles is a more accurate label.
Whilst Stevie Gerrard was understandably furious after the game Mourinho had a bout of manager goggles, claiming
"I haven't seen the replay of the incident and it was difficult to make out what was happening at the time,"
Styles, who had what is technically termed a complete mare then went on to appear to give Michael Essien a second yellow card, whilst actually giving the yellow to John Terry. Essien was so confused he stood rooted to the spot, trying to fathom what Styles was doing.
Before the game, Rafa Benitez was probably firing out advice to his boys about Chelsea's weaknesses and strengths, what Rafa probably didn't warn his boys about was the game-changing power of Rob Styles, whose overly generous penalty award makes you wonder what kinds of tips he leaves at restaurants.
So what punishment will Styles receive for what Benitez called the "invisible penalty"?
Styles has been slapped over the knuckles and will not officiate next weekend because of that gratuitous blunder; Referees' chief Keith Hackett told BBC Radio 5live:
"It is just like with players, if they miss an open goal they are likely to be dropped."
Is that too little though? Such leniency seems ridiculous compared to the corporate world. If taken out of the footballing context, an office-related blunder of similar magnitude, resulting in a company losing $10 million worth of business, would result in a slightly heavier punishment being levied that a one day ban.
Elsewhere assistant referee Ian Gosling , who incorrectly ruled during the Middlesbrough-Fulham game that Mark Schwarzer stopped a Healy a shot from crossing the line, will also get next weekend off.
"Clearly the assistant referee has made an error, so he won't be operating next week for us either." said Hackett.
A weekend off to mow the lawn go shopping with the wife, really an adequate punishment?