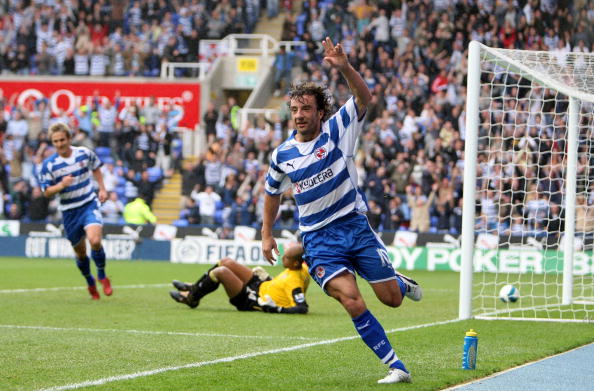 Edward is disappointed at being out-Evertoned by Reading at the weekend.
When David Moyes took over at Everton he instituted a simple but brilliant rule. If you play well you will stay in the team. This rule has galvanized Everton over Moyes' reign as boss, players are rewarded with playing time if they succeed, and are driven on even further by other squad members who are kicking their heels in the periphery.
If Joseph Yobo hadn't succumbed to injury then there is no doubt that Moyes would have fielded an unchanged side for the third game in a row, as it was Valente came in and Stubbs and Lescott paired up at the back. New signings Pienaar and Baines were left on the bench, still unable to break into the Everton first team. When Pienaar did come on in the second half he looked far too eager to please, attempting to beat players rather than pass.
Sporting their dark blue third kit, Everton looked like a subdued shadow of their former selves before a ball was even kicked. It was the Royal Blue and white Reading that punctured the starting whistle with urgency and bite, playing Everton at their own game.
Everton's previous two wins counted for nothing at the Majedski Stadium as Reading , an asbestos blanket of a team, put out the oppositions fire and drive. Arteta's undoubted talent was a barely audible murmur and Andy Johnson's jailor, Bikey, was supreme. Readings goal came late in the first half, Hunt snuck in behind Stubbs and scored with a pickpocket's feet.
Although Everton fought back in the second half with memorable post slapping strikes from Johnson and McFadden, Reading deservedly maintained a belligerent grip on the three points. It will hurt Moyes that he was outmuscled by a team crafted from the same solid oak as his blue boys, but at the same time Readings playing style can't have come as a surprise to him.