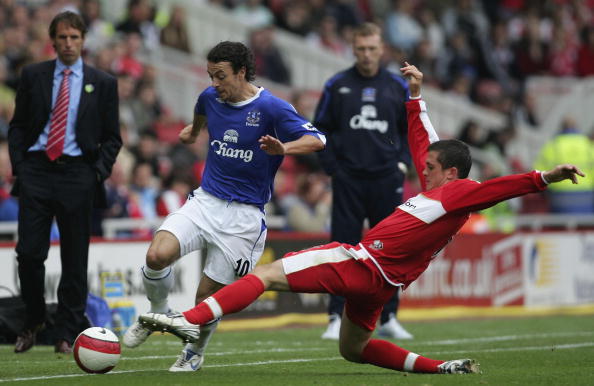 A host of papers are reporting that Everton are continuing to chase Nigeria striker Aiyegbeni Yakubu despite Middlesbrough raising their asking price to £12.5million.
With Andy Johnson the only reliable mature striker in the Everton squad and Moyes already having bid £12 million for Lucho Gonzales, Boro chairman Gibson is unsurprisingly pushing for as much money as he can get. The tight-lipped and penny-pinching Moyes will have to balance his natural desires for prudence with the fact that the transfer deadline is looming on the horizon. Everton are ready to pay up to £11m in the knowledge that Boro need the cash to finalise a £6m deal for Brazilian striker Afonso Alves. If Yakubu isn't snared then Moyes will switch his attentions to CSKA Moscow striker Wagner Love, he of the bizarrely coloured dreadlocks, and strangely mundane Youtube clips.
This is a vital week for Everton, if Moyes can tie up the loose ends in the part agent owned Manuel Fernandes transfer (and preventing it turning into another Tevez situation), and secure the signing of a partner for Andy Johnson, he has to be confident of his side pushing on from their great start. There is one slight shadow over this potential signing, Yakubu's questionable temperament and poor work-ethic could disrupt the well balanced Everton dynamo, and Middlesborough could be laughing all the way to the bank with Mido looking like a successful and far cheaper replacement.
In fact Alves and Mido together would only cost a fraction more than Yakubu. Good business for Boro, or a fair gamble for Moyes?