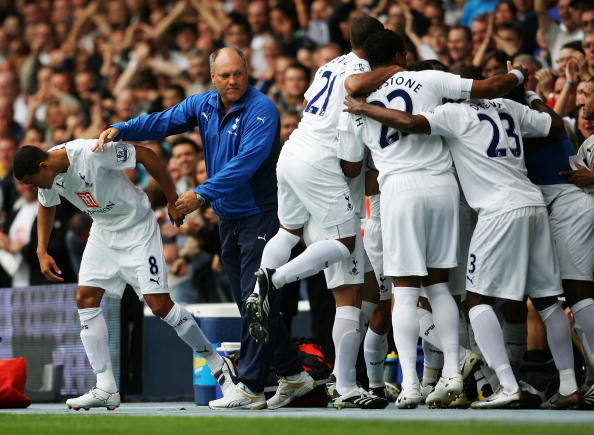 Guest written by the Spurs Wonderkid from TottenhamMassive.com
A wild and ballsy statement, but if you look at the points-per-match amassed by every Spurs manager since Bill Nic the proof is in the pudding. Some sort of weird, statistical pudding.
Although it would be very interesting to see how this list looks if it was money spent per point, just to even things up a bit (List assigns 3 points for a win regardless of era):

Bill Nicholson 1.65 points per league game (1,102 from 666)
Martin Jol 1.58pts per game (167 from 106)
Peter Shreeves 1.54pts per game (194 from 126: 142 from 84 in first spell; 52 from 42 in second)
David Pleat 1.53pts per game (132 from 86: 91 from 54 in first spell; 41 from 32 in second)
Keith Burkinshaw 1.45pts per game (488 from 336)
Terry Venables 1.42pts per game (194 from 137)
Doug Livermore 1.40pts per game (59 from 42)
Gerry Francis 1.39pts per game (165 from 119)
Christian Gross 1.308pts per game (34 from 26)
George Graham 1.306pts per game (128 from 98)
Terry Neill 1.29pts per game (101 from 78)
Glenn Hoddle 1.27pts per game (113 from 89)
Jacques Santini 1.18pts per game (13 from 11)
Osvaldo Ardiles 1.15pts per game (62 from 54)
Of course, the credibility of the whole list is thrown into disarray when you start drawing conclusions like "David Pleat is Spurs' fourth best ever manager". But then again, if you think about how utterly crap and embarassing we've been for most of the last 40 years – suddenly the concept of Pleaty as a club legend isn't that far off.
Now it's time to go wash my mouth out with soap… and my hands I guess because I typed that, although I did say it out loud too just to give myself chills.