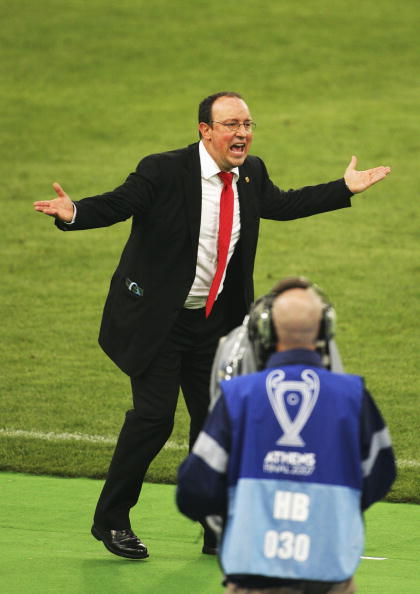 First came the extra facial hair, now comes the "everyone is out to get us" paranoid rant, as repoted in the Times. There's no doubt about it, Rafa Benitez is having a mid-life crisis.
Rafa has accused the Premier League of giving preferential treatment to Manchester United, on everything from the Heinze and Tevez transfers to giving the Red Devils cushy kick-off times; a surefire sign that the Premier League suits are rigging everything in United's favour.
Rafa started innoculously enough,
"I would like to ask the Premier League a number of questions,"
Then got a little feisty, gesticulating wildly at an unsuspecting journo,
"How can a player with a signed agreement be treated like this? He [Heinze] has a document which is clear, but the Premier League prefers to believe the word of someone else [Gill] who made a mistake."
Rafa then stopped to wipe the froth from the corners of his mouth and continued while poking the interviewer in the chest over and over,
"I know there were accusations made against Liverpool in the hearing which were unbelievable. How can this be allowed? Then I would like to ask the Premier League why it is that Liverpool always plays the most fixtures away from home in an early kick-off following an international break? We had more than the top clubs last season and we have four already to prepare for this season.

"Then I want to ask the Premier League why it was so difficult for Liverpool to sign Javier Mascherano, when we had to wait a long time for the paperwork, but it was so easy for Carlos Tévez to join Manchester United.

"It's going to be very difficult for us to win the Premier League because the other teams are so strong, but I want our supporters to know that, despite the disadvantages we have, we will fight all the way. We will fight to cope with our more difficult kick-off times and all the other decisions which are going against us."
Not sure if Rafa truly believes any of this, or if its that time of month (that happens to guys, right?) but we half expected him to phone up 606 midway through. Last we heard it wasn't exactly easy for United to get Tevez off West Ham, and can he really think that the Premier League would sabotage one of its most famous, marketable and successful ever clubs? We'd like to think he has better judgment than that.
Then again he did grow that beard.