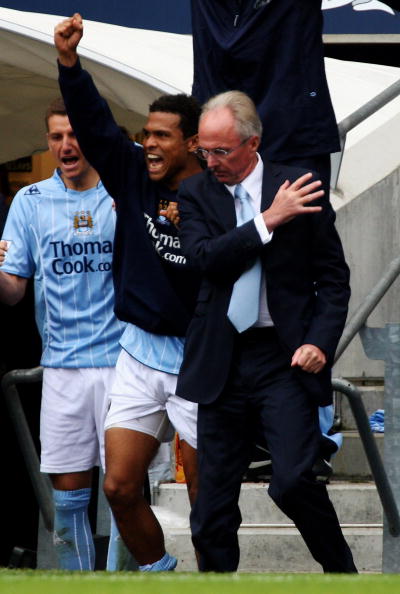 With the Premier League getting back underway, Jason looks at the Big Four's challenge for the title. No offense to Manchester City (well, maybe a little).
Although the Premiership is well known for its twists and turns, seemingly impossible happenings and teams rising from the lower echelons to shock the world, it would be foolhardy to suggest that the title is not going to be won by one of Manchester United, Chelsea, Liverpool or Arsenal. Despite Jose Mourinho's claims that Tottenham will be part of the pack that will contest England's ultimate trophy, it is unlikely that they can make the step up while other teams in the Premiership simply do not have the money or the quality to make the leap into the top four.
In this article I will compare and contrast the qualities of last season's top four teams, taking into account their new signings, present players and manager as well as other factors that could affect a title push.

1) Manchester United
The Premiership champions can, as always, be expected to mount a challenge for the trophy they have won nine times since its inception. Possessing the likes of Cristiano Ronaldo, Paul Scholes and Wayne Rooney in their ranks, United will hope to continue on from last year's success and as long as they have the wily Ferguson in charge they will be a force. Last season, United won the title despite arguably having a weaker squad than Liverpool, Chelsea and Arsenal, with John O'Shea, Darren Fletcher and Kieran Richardson coming in when injuries/suspensions occurred. This season, however, all that has changed. United have been one of the most active clubs in the transfer market, signing Nani and Anderson in a massive £34m combined swoop, as well as the signing of Owen Hargreaves from Bayern Munich for around £17m. That was not the last of their dealings though- they also signed last season's West Ham star Carlos Tevez on loan, and could move for another striker due to their abundance of injuries. With the substitutes bench having these kinds of players sitting on it, it is hard to see United being unable to cope with almost any situation.
Do all these factors mean United are a shoe-in for the title? No, as there are still problems they face. Their dependence on Scholes and Giggs, two ageing players could put them in trouble if either of those players have a long term injury. Also, the Red Devils look a lesser team without Ronaldo, and should he get injured (or suspended, as he has been) a lot will depend on Nani's ability to emulate his goals and performances. In defense, United have a stable backline, with the solid centre of Vidic and Ferdinand protecting the goal when Gary Neville or Patrice Evra make a marauding run upfront. Although this defense looks strong on paper, it can be brutally exposed, as shown when United's dreams of becoming European champions vanished as they were knocked out by eventual winners AC Milan in the Champions League.
United fans will hope that they repeat the performances and the goals of last season, and Ferguson will hope to add the Champions League title to his collection of trophies for the first time since 1999. A shaky start has not helped, with United only taking two points out of their first three games (and Rooney being sidelined with a serious injury), but there is still time for the champions to bounce back.
2) Chelsea
While Chelsea have enough money to always be in contention for the top honours, their spending in the transfer market has suggested otherwise. Their solitary 'big' signing in the transfer market has been that of French World Cup star Florent Malouda for a rumoured £13.5m from Lyon. Make no mistake though, it is not as if Chelsea do not want to challenge. The FA and Carling Cup winners have also brought in Steve Sidwell, Claudio Pizarro and Tal Ben Haim in on free transfers, three astute signings by manager Mourinho.
They also recalled talented Brazilian defender Alex, who was at PSV Eindoven on loan. While Sidwell and Ben Haim have Premiership experience and thus will not need the settling in period that those signed from outside the Premiership will do, Pizarro can fill in when Drogba goes off to the African Cup of Nations.
It is not like Chelsea have finished their transfer dealings either, with moves for another striker and right back imminent according to the English press. Chelsea are a club that play efficient, tactical football and although that style of play served them well in their title winning seasons, it did not work as well last year. It could be argued that Chelsea of yesteryear at times were dragged along by Drogba in their title push, the player who they will be missing for at least a month when the African Cup of Nations comes around. Will their current strikers be able to replace his goals? Shevchenko will need to improve a lot on his first year in English football to do that while Pizarro is on the decline as a player as well. Malouda should offer goals, even if it is hard to see where he will fit into a 4-4-2 formation as he works best playing as a wing forward in a 4-3-3 formation.
Whereas Chelsea are solid in defense and the additions in this transfer window have improved their squad no end, is this what it will take for them to win the title? Background problems such as the rumoured rift between Mourinho and Abromovich may have cost them last year's Premiership trophy due to Mourinho not being allowed to sign Ben Haim in the winter transfer window, and that kind of atmosphere is hardly good for both team chemistry and fan morale. With apparent divisions in the squad between the likes of Terry and Ballack, these distractions could be fatal in their quest for silverware. Chelsea's strong start, with good wins against Birmingham and Reading followed up with a draw at Anfield will no doubt make their fans confident they can regain the trophy they lost last year.
3) Liverpool
It would seem like a monumental task for a club that has not won England's top division since the 1989-90 season to take it this year, but whispers are quietly rising around Anfield that this feat may be possible. Like Manchester United, Liverpool have been active in the transfer market, securing the registration of Yossi Benayoun, Fernando Torres, Ryan Babel to compete for the first team as well as the lesser known Lucas Leiva, Sebastian Leto and Andriy Voronin to strenghten the substitutes bench.
Throughout Benitez's time at Liverpool, his tendancy has been to buy quantity rather than quality, and this has not changed this transfer window. Of all the players he has signed, the only one with the capability to become world class in the next few years is Fernando Torres, and with previous Spanish strikers' records in the Premiership one would not be surprised should he not adapt. With chief executive Rick Parry stating that their transfer window spending is not yet over, Liverpool fans will hope that he goes in for some top level players, and the signing of Gabriel Heinze from Manchester United would be a good start. With the likes of Kuyt and Crouch complementing the new additions up front, and Mascherano, Gerrard, Benayoun and Alonso in midfield, Liverpool are well stocked in those two areas. If you were to point out a weakness of theirs, it would have to be defense.
First choice goalkeeper Pepe Reina does not inspire confidence in his fans or fellow defenders with his erratic displays, and while he is a good goalkeeper on his day, his understudy, Scott Carson is arguably a lot better. Whilst Finnan, Agger, Carragher and Riise are as fine a backline as most of the division possess, their replacements hardly match the quality of the performances they offer. The ageing Hyypia's lack of pace makes him an easy target for pacy opposition strikers and neither Aurelio nor Arbeloa's names will strike much fear into the hearts of opponents.
4) Arsenal
Both Alex Ferguson and Jose Mourinho seem to have written Arsenal off as challengers for the title, with the duo each naming the other team and Liverpool as their main threats. Although Arsenal's fans do not seem to be confident either, their players and manager certainly are, with Arsene Wenger stating it would be 'unacceptable' if Arsenal were not involved in the title race this year. The Gunners have had the losses of Thierry Henry and Fredrik Ljungberg, amongst others in the transfer window but have already moved to sign three major players. Eduardo da Silva, nicknamed 'Dudu' moved to Arsenal from Croatian club Dinamo Zagreb to replace Arsenal legend Henry and he has been joined in north London by Auxerre right back Bakary Sagna and Polish goalkeeper Lukasz Fabianski.
Even though most Arsenal fans questioned the need of a right back, Sagna's strong performances in tandem with Eboue during thus far as well as his ability to fill in all across the backline will quiet these murmurs of discontent. It is unknown whether da Silva will be able to replicate Henry's thirty goals a season, whether he does this could well determine how well Arsenal do this season. Arsenal's main problems last season were a lack of width, leading to stifled midfields and a weakness in defense that meant opposition teams were almost guaranteed to get goalscoring chances off set pieces. Wenger has tried to solve both these problems in one swoop, by moving Eboue to the right wing while Sagna, a defender strong in the air cleans up behind him.
Could Arsenal make the jump from a distant fourth place to the Premiership title? It is hard to see why not, with the Gunners youngsters always improving. With the precocious Cesc Fabregas and the brilliant Robin Van Persie getting better for each game they experience, it would not be wise for the rest of the Premiership to underestimate Wenger's young team. Despite Arsenal finishing well off the pace last season, with another winger added to the mix there is no reason they should not be able to challenge for the title- the team is now used to the new stadium, and having played without Thierry Henry for most of last season will be confident they can win games in his absence. While the Gunners have started off with a last minute win against Fulham along with a draw at Ewood Park against Blackburn, fans will hope that their injuries from last season do not continue to haunt them, with Gallas already ruled out for three weeks along with Adebayor, Diaby and Rosicky being sidelined. With some testing matches to come up, including a game against a Sven-inspired Manchester City side and a North London derby with rivals Tottenham, Arsenal will need to be on full form to keep up at the top.
I am not going to state who I think will win the title. Being an Arsenal fan, it's obvious that I hope Ashburton Grove is laden with trophies next season, and all the better if the Premiership trophy was one of them. All teams will fight hard and fight till the end for the title, and the major factor I feel could determine who the Premiership champions are come May 2008 is how well the new signings bed in. Whether da Silva, Malouda, Tevez or Torres hit the ground running could well play a major part in the destination of the Premiership trophy, and one hopes that this season is going to be one of the most exciting domestic seasons ever witnessed in England.