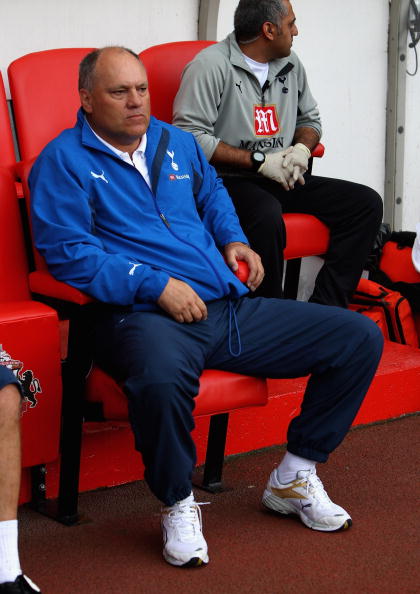 Guest written by the Spurs Wonderkid from TottenhamMassive.com.
The general consensus is that this has not been a good few weeks for Tottenham Hotspur Football Club. Shocking treatment of one of the most successful and popular managers we've had in years, an utter PR disaster in the press, and constant speculation linking our best players away. Many believe this has created an environment in which success, Champions League football, is put in serious doubt.
But I disagree completely, this is the best thing that could have happened because if Martin Jol is as good as we want him to be then all of this negativity is just what we needed to turn potential into results.
So much is made of the siege mentality that works wonders for Manchester United, Chelsea and Arsenal. The sense of 'Them Against Us' can create a unique team spirit and collective determination to succeed and overcome what seems like immense adversity. Sir Alex, Arsene Wenger and Jose Mourinho all somehow manage to make their incredibly successful, highly paid, silverware winning players feel like they the victims of some kind of massive injustice of life. The solution? To stick it to the press and rival fans through performances on the pitch. To see every decision against you as the work of a biased referee, to see every goal as an unfair strike against the run of play, to see every poor result as a personal insult and use it as a reason to thump the next team.
This Spurs team is known for a lot of things but an unbreakable desire to win at all costs is not one of them. But now the hype of pre-season is gone now, the player have their feet on the ground, and we are in the much stronger position of being a wounded animal itching to get some revenge.
Or at least we should be.
We've spent shedloads of money to try and match the Big Four in the transfer market and now we've been given the chance to match them mentally as well. The players are behind Martin and if he is truly a top manager then he will take advantage of that support to galvanise them around the club and himself. He must inspire them to take by force the respect the players feel they deserve but that the media, clubs and rival fans refuse to give. To defend their leader when he is under attack and never again stroll casually through a match looking like they expect, even deserve, to win simply by turning up. If Martin Jol is a top manager he will turn a disastrous start to the season on and off the pitch into a significant advantage the rest of the way.
And I don't say "If" Martin Jol is a top manager by accident. My biggest annoyance with having Jol in charge is that he does just enough to make us optimistic but so far not enough to convince beyond any doubt – the personification of Spurs, really – and this is also a big reason why the club's management and board seems so divided and fickle in their support for him. But now this season has now been properly set up for BMJ to show what he's really made of.
For better or for worse.