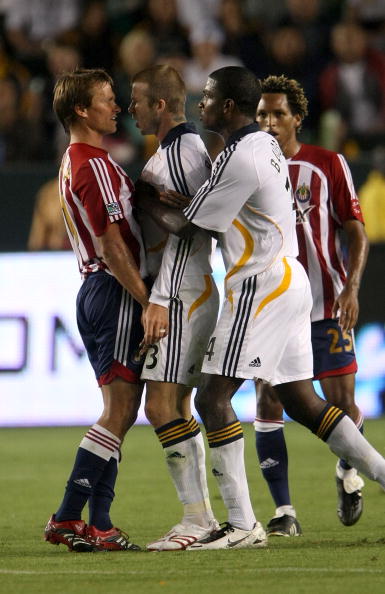 The New York Post journo David Waldstein once said:
" Noone at my sports desk gives a shit about soccer … Someone wrote an article about John Harkes going to Sheffield Wednesday and the editor changed it to 'going to Sheffield, Wednesday'"
A mere six hours after landing from his London flight Beckham put in a full shift for LA Galaxy, and sparked a huge brawl between LA Galaxy and Chivas; at least something for the Yanks to get interested about. The handbags came out following a Blackburn Rovers style ultra-violent tackle on Beckham from Jesse Marsch. The Americans seem to get interested in soccer only if there are obscene amounts of goals scored (NY Red Bulls 5-4 LA Galaxy has been instantly dubbed a 'classic' by ESPN) or if there are fights, and David contributed to this game by being scythed down.
Hard working David Beckham is also facing an increasingly gruelling schedule of games for both club and country.The Times reports that Beckham will face playing 22games and flying nearly 80,000 miles in the next few weeks.
Beckham played the entire ninety minutes (3 full games in 6 days) in the violent Chivas match. arriving on a flight from London and was visibly limping towards the end of the game.
Galaxy Coach Frank Yallop said of his prize asset:
"I wasn't going to play him at all,but he wanted to play and realises the situation that the team is in. We need points and he's that kind of a guy – at 2-0 down he could have a bit of magic and make a difference.At the end, he looked a bit hobbled and he should have been rested."
Beckham will face even more air travel if the Galaxy reach the MLS play-offs, which are scheduled for the weeks preceeding England's vital qualifier match against Croatia.
Beckham's spokesman, however, remained upbeat:
"We are not worried. David is very confident he will be in peak condition – both for England and his club."
Can this world famous right foot really take this workaholic schedule, and can the right foot overcome the annoying appendage David Beckham, who is like catnip to any journalist?