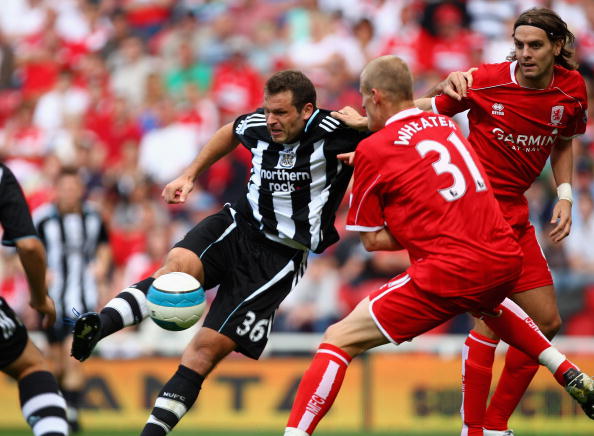 Middlesbrough Chairman Steve Gibson has expressed his relief that his club are finally rid of prolific goalscorers Mark Viduka and Yakubu Ayegbeni.
Although Mark Viduka demonstrated his goalscoring prowess by bagging a goal for his new team against Boro on sunday, Gibson insisted that Boro were better off without him. The not-bitter-at-all Chairman said that he felt "tainted" by Viduka's Cashley Cole-esque wage demands:
"We spoke to Mark and his agent last Christmas and I was told very early on it was about money and that Mark would go to the highest bidder. The wages went up by many millions and I felt almost tainted by it. I took it to the point where I felt so uncomfortable that it was almost a relief when he went to Newcastle because of the sums involved. Mark Viduka is 32 on his next birthday and he was asking for a three-year contract and asking for a figure which, over a year, would to equate to over half of our gate income."
Hmm either Viduka is asking for some inordinate sum, or Middlesbrough are in some rather dire financial straits.
As for Yakubu, who is set to join Everton later this week, Gibson lashed out at him levelling the charge of "stopping playing for us halfway through last season". Gibson went on to say that Yakubu "switched off halfway through last season and we still don't know why". Not the best news for Everton or David Moyes, but Yakubu probably switched off in the second half of the season because Middlesbrough's season was over. So as long as Everton can stay competitive, he'll be alright. We think…
Probably a case of sour grapes from Steve Gibson, who probably is one of the best chairman in the Premier League in terms of providing transfer funds and making sound managerial decisions. He deserves better.
Not sure why though, just seemed the nice thing to say.