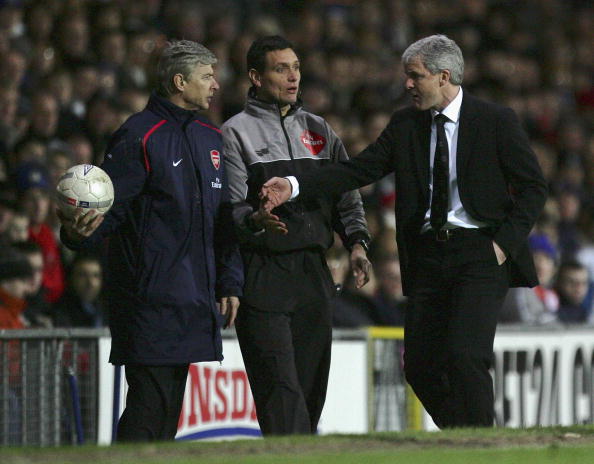 Mr. C wishes Arsene Wenger's attitude would match his ability.
When I was at school there was this kid Mark who could only be described as a social misfit. His hair was messy, clothes were dreadful and he was far too geeky for his own good. Conversation was dull and he was the butt of most jokes, but one day Mark decided to take drastic action and over the summer and had a makeover.
Hair gel was introduced, cords were replaced and his hi tech boots were replaced by a slick pair of Nikes; in truth it could have been a new kid that had joined the class that day. We all know appearances can be deceiving and why Mark had done his best to shift his nerdy façade with his self improvement; we were always reminded of his geeky past and that always stuck till the day we left school.
Mark was an Arsenal fan which was understandable; I mean have you ever met one with charisma? But I often wonder whether this anecdote is a fair reflection of the struggle Arsenal FC have faced ever since Arsene Wenger took charge; I mean for all the style and flair they now posses, can anyone take them seriously given their past?
You talk to Arsenal fans and you would think they had been playing the beautiful game all their lives, a rather telling indication of their fan base, but as Mark found to his detriment that people always will remember the dark old day in this case when Arsenal personified dour, boring and an extreme lack of class; a trait that still lives on in the persona of most goon fans.
Arsene Wenger is without a doubt one of the great manager's of our time; master tactician and the transformation he has made at Arsenal is phenomenal considering the tight fisted board he has behind him. He turned a group of alcoholics, druggies, gamblers and a wife beater into champions within his first full season in charge and over the years unearthed some great young talent that have lit up the Premiership. Like all successful people they get their fair amount of knockers who will do anything to put them down. While Spurs fans tend to focus on made-up allegations of a seedy sex life, the press tend to hound his constant overlooking of English talent in preference of foreign kids.
I mean is Senderos any better than Dawson? Is Hleb any better than Lennon or David Bentley for that matter? And the fees are no different. Only signing 11 English players in 10 years at the club shows his contempt for our talent and the development of our domestic game…you could argue that Wenger had a point if it wasn't for the fact that Chelsea and Manchester United now dominate the Premiership with their predominately English spines.
For all Wenger's achievements in turning the fortunes of Arsenal round you could question whether he is also responsible for tearing up all the decent traditions Arsenal use to stand by which was honesty and fair play; the crimes that club has got away is monumental but it's amazing what happens when a former director had such influence at the FA. There was a day when Arsenal appreciated the kind of hard work and graft that Blackburn, Bolton and others have shown instead of whinging about how mean they are.
Maybe Wenger should wake up to the fact that Fabregas for all his abilities doesn't offer the muscle that Vieria gave them, Rosicky falls over at the merest touch, Hleb is weak and Theo Walcott is failing to live up to the hype that surrounds him and maybe do something about it for Arsenal rather than complain about opposition clubs who exploit those weaknesses.
Arsenal have become a soft touch pure and simple and it's the reason why they have now become also ran's like the rest of us…maybe the Professor should look at his own team shortcomings before criticising others.