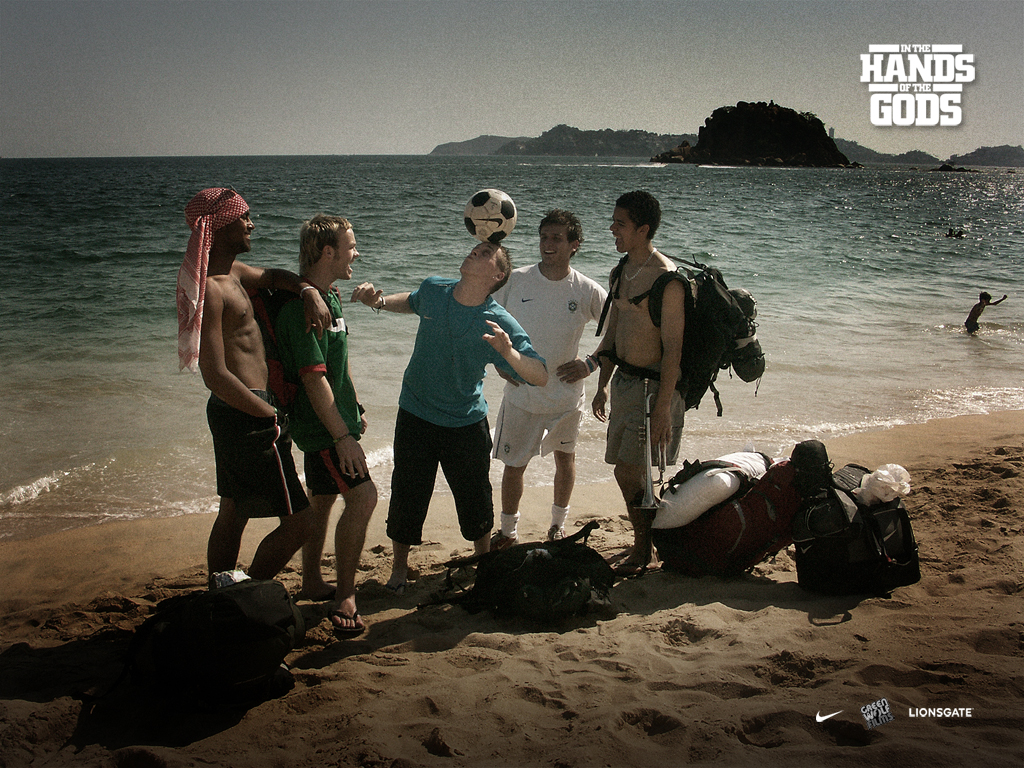 CaughtOffside was invited to a exclusive sneak preview of the upcoming football film In The Hands of the Gods, but unlike Daniel, our man Mr. C found it wasn't quite his cup of tea.

Having been in the film industry for many years you would think there aren't many things that would surprise me, but having sat through 106mins of this glorified Nike campaign you must forgive my cynicism when judging this film's credentials.
On paper we were going to witness the true story of 5 young British freestyle footballer's journey' across the Americas to Argentina, in the hope of meeting Diego Maradona; the pioneer of their freestyle art who has always been their hero and inspiration. Unfortunately we ended up receiving a film that was rather disjointed and lacked any real credibility partly due to the shameless plugging of Nike's products at every opportunity.
"In the hands of the Gods" was set up to pull the heartstrings of filmgoers; 5 lads of differing upbringings who have been bought together by their precocious talent who need the feeling of recognition and achievement that had so far eluded their short lives.
Having supposedly blagged 5 flights to New York (I'm sure Nike didn't make a contribution) the lads set off on their road to Buenos Aires armed with only their charm and footballing skills to hustle and busk their way through America.
The producers deserve credit in casting such diverse characters which made this road trip entertaining and at times confrontational; I mean when you get a Jehovah Witness preaching to a cocky scouser from Croxteth about the meaning of life it's a synch there may not be total harmony; but throw a football into their mix and these lads come together as a united band of brothers, with the soul purpose to entertain the masses that had congregated in earnest.
The skill of these boys was mesmerising and had not only me the viewer, but the football loathing Americans, gasping in disbelief at their repertoire of tricks and different routines; it's a shame the filmmakers failed to build on this raw ingredient and decided to go off on a tangent with sub plots aimed at making it more emotionally charged than it needed to be.
As the lad's journey took them through America, from street corners to half time entertainers; the predictability of this film had started to shine through. It was clear that this dream of meeting Maradona was only that of Woody; the only one who showed any real passion, drive and desire while the others were clearly just there for the ride. You have to wonder whether it would have been a better film if the focus had just been on Woody's sole quest to meet the man who was clearly his inspiration.
The film started to become disjointed and go downhill fast when the boys were forced to split up due to financial restraints as they could only afford two tickets to Rio; a situation that proved rather baffling, considering they could go out an earn more money for the rest of the guys.
I guess the filmmakers saw this as a necessary angle to create some tension and enrich the film; it was to prove a grave mistake and knocked the stuffing out of a piece that despite the promoting of Nike had become quite entertaining in certain parts.
They say you don't need a weatherman to tell you when its raining and you don't have to be an expert to work out I was not a great fan of this particular film but I must stress that if you love football then this film is definitely worth a look; if not just for the repertoire of skills on show by the guys. Like most docu-films it becomes a bit stop start now an again and despite the efforts of this evidently talented editor, you have to be on the ball to work out what's taking place. I wont spoil your fun and let you know if they fulfil their ambition or not but I will happily give 10points to anyone who can tell me what brand of Tracksuit Diego Maradona is wearing at the end of the film…any guesses?
In The Hands Of The Gods is in theatres September 14th.