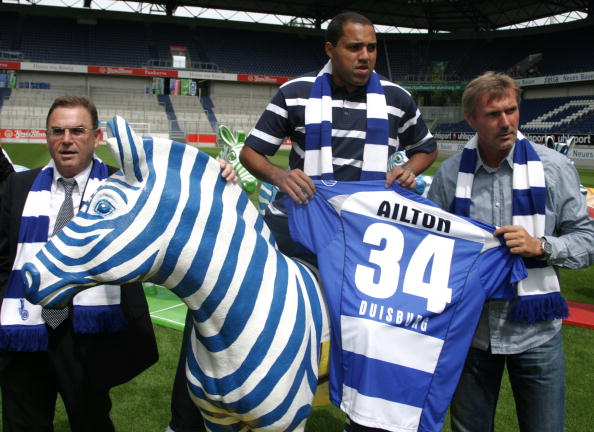 West Ham, Newcastle and other clubs looking for a last minute transfer should be on alert, Daniel has found a couple of characters well worthy of entertaining us – off the pitch, at least.
Sometimes it can be a struggle to find a football story to write about. But, sometimes a footballer can say something so hilarious that you just have to share it…
At 34, the Brazilian striker, Ailton, does not have much time left to impress as a footballer. Ailton is known to have an eye for the ladies, but he wants the world to know that he will be "totally focused" on football at his new club, MSV Duisburg, in the Bundesliga and therefore made this thoroughly professional statement:
"I'm here without my wife, and I'm all about football. All about football. There will be no more sex for me, no more bumbum. The only orgasm is when I score a goal. Goal bumbum. Ailton is back."
Who said footballers just recite the same tired old clichés in interviews. Goal bumbum, indeed. Get this guy into the Premier League now.
One man who may be heading to the Premier League this week is Inter's Francesco Coco, who is tired of the Italian media linking him with bumbum. Having joined AC Milan as a sixteen year old, Coco was expected to be the heir to Paolo Maldini, but it is his extra-curricular activities that have made headlines. Coco had admitted to paying a press photographer not to publish photos of him and a male friend on a boat (presumably they were doing more than just fishing) or photos of him with four naked men. He was also recently attacked by a woman brandishing a knife when he was at home with his girlfriend. (Typical, she finally persuades him to have a quiet night in with her and that happens). Now Coco has had enough and wants out.
"I don't accept how the papers portray me. I could play like Maradona but it wouldn't matter: everyone thinks I am a drugged up gay who lives in nightclubs. I need to get away."
With Big Sam known for his ability to sign 'characters' and bring out the best in them, maybe Coco could be heading to St. James's Park this week (he did play a friendly for Newcastle in 2005 against Bray Wanderers). What better way for Allardyce to transform the image of Newcastle as a club of beer-swilling women-roasters than by introducing a "drugged up gay" to the team.
However, as one star of Italian football denies partaking in bumbum another new kid on the block clearly has bumbum on his mind. Italian football returned to terrestrial TV at the weekend with Channel 5 kicking off its coverage of live Sunday games and a Saturday highlights programme. The presenters follow the format for all shows on Italian TV: a middle-aged man in a suit who does the talking and a young, very attractive woman who smiles a lot. In Channel 5's case this is Mark Chapman from Radio 1 and the sen-ruddy-sational Laura Esposto. Chapman leered approvingly at Laura with plenty of nudge-nudge-wink-wink and Laura confirmed that she had not found a good pizza restaurant since moving to England. True, it was more Benny Hill than Jimmy Hill but rather than wheeling out a studio of ex-pros who offer no insight into matches, Channel 5's brazen 'Carry On' style of punditry was refreshing. Maybe the BBC could get Jim Davidson and Lindsay Dawn Mackenzie to present Football Focus.
Here's to Continental football and may your team's strikers have a fruitful season of goal bumbum.