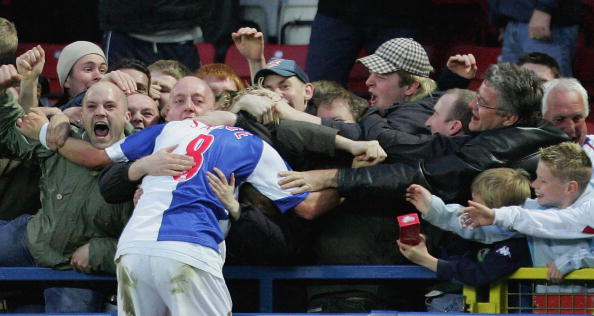 Daniel isn't quite sure why Mark Hughes' men aren't getting the fanbase their play seems to deserve.
Please answer me this question: what's wrong with Blackburn Rovers?
I'm not a Blackburn fan but I think they're quite an attractive team (steady!) yet last season their average attendance of 21,198 was the lowest in the Premier League as a percentage of the ground's capacity (Ewood Park was only 68% full on average). In their first home game of this season against Arsenal, the stadium was still only 80% full. Even more criminal is the fact that they reportedly could not sell 8,000 tickets of their 30,900 ticket allocation for their FA Cup semi final with Chelsea at nearby Old Trafford. Why so many empty seats when Blackburn play?
For some teams, it would be no surprise if only close relatives and paid staff were in attendance, but Blackburn have plenty going for them. Starting at the back, they have the most consistently excellent goalkeeper in the Premier League. Yes, Petr Cech is safe at Chelsea and Shay Given has been superb for Newcastle over the years, but for week in-week out match winning saves Brad Friedl is exceptional. In defence, Blackburn have honest and underrated players like Ryan Nelsen and Stephen Warnock.
Further up the field they have a blend of wily veterans like Tugay and Benni McCarthy, exciting young creative talents like David Bentley and Morten Gamst Pedersen, a classy, strong overseas centre forward in Roque Santa Cruz and a home-grown one in Matt Derbyshire who is potentially the best English goal scorer since Michael Owen's emergence. (Yes, Blackburn also have Robbie Savage, but most teams, even the team you support, have at least one player who winds opposition fans up). This mixture of talents means Blackburn can both mix it physically and (take note Arsene Wenger because I know you're an avid COS reader) play good attacking football.
This pleasing array of players is managed by Mark Hughes, one of the very few British managers that is likely to earn a shot at managing a Champions League club. As it is, Blackburn regularly finish in the top half of the table and are set for another UEFA Cup campaign this term. Given the budget available to Hughes, he is getting Blackburn to perform at an impressive level, so why does his team not get more support?
Commenting on Blackburn's inability to sell its FA Cup semi-final tickets, Mike Graham, of the Blackburn Independent Supporters' Association, said:
"Our catchment area is basically just Blackburn, which is a small town. It's also a low-wage area. Even forking out the minimum of £25 per ticket is a lot, never mind the maximum £55."
The catchment area argument is true. Blackburn, like another low attendance Premier League club, Wigan, is a small town, which has to compete with the likes of Manchester United, Manchester City, Liverpool and Everton in the North West. However, it wasn't so long ago that Blackburn were Premiership champions with a prime, all-action Alan Shearer, leading the way for them. Didn't those glory years attract some new fans to Blackburn, particularly youngsters who are now wage-earning adults, the knock-on effects of which should now be seen in a stronger fan base? As for the low-wage argument, I cannot deny the facts that income levels in Blackburn are low or that ticket prices are high, but there are other Premier League clubs based in low-wage areas that do not have the same problems Blackburn has in attracting fans.
So if anyone can help me understand just what's wrong with Blackburn Rovers?
---
Read more Everton transfer rumours on the Everton section.
---
 Caughtoffside.com – Sports blog offering Sports news & Sports articles