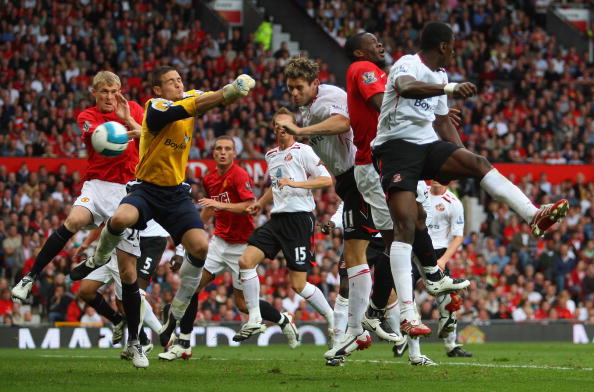 Forget Rooney and Ronaldo, Dan knows the man who is key to United's plan. Sorry, that was awful.
After Manchester United stormed to the title last season winning 28 games and picking up 89 points, and then heavily out-spent their closest rivals, Chelsea, in the summer, they were understandably favourites to win the Premier League this term. Yet the team is lagging, having only won two games and collected 8 points from a possible 15. Why?
Blaming injuries and suspensions is an instinctive excuse, but given the money invested in Man U's talented squad these reasons should not be exaggerated. The key reason for Man U's comparative lack of success this season is that they are not scoring enough goals (3 in 5 games so far) and Fergie, not the players, is most responsible for this failure.
Man U had three out-an-out strikers this summer: Smith, Solskjaer and Saha. Fergie chose to spend approximately £48m on three midfielders and, possibly in time, up to another £20m on a support striker in the transfer window. He did this despite wishing to sell Smith (which he has now done) and knowing that Solskjaer was a long-term injury problem (and has now retired because of those injuries) and not a starting XI player and that Saha would be injured for the start of the season too. Thus, Man U started the season knowingly playing without an out-and-out striker. The move has a strong whiff of Quieroz's influence as his tactical meddling often seems to reduce Man U as an attacking force, but Fergie must ultimately be held responsible for formations and tactics.
So far this season, Rooney and then Tevez have been used as Man U's most advanced player, but neither is experienced or comfortable in this position. When they cannot play off a front man, they are not nearly as effective (just look at Rooney's performances at the end of last season for Man U and during the World Cup for England as evidence of this). It is not a question of ball skills, but where they instinctively position themselves. Both Rooney and Tevez made their reputations for club and country by playing as support strikers. Their instinct is to drop off to receive the ball and then run at defenders or thread passes, not to lead the attacking line. Trying to make them change their game when they have proven themselves as world class talents in a different position is stupid.
Playing without a natural lead striker this season has given Man U lots of possession in their opponents half but no end product. Rooney and Tevez have looked lost when leading the line with two central defenders to deal with and when they drop off to receive the ball, Man U have had nobody in their penalty box. Having an advantage over your opponent in possession, territory and chances created is worthless if nobody is putting the ball into the net. It seems a blinding obviously statement to say that you can't win if you don't score, yet Fergie is guilty of overlooking this basic rule of football.
Saha is critical to Man U this season as he is the only out-and-out striker that they have. He is comfortable playing on the shoulder of the last defender, he looks for the ball in behind the defence and knows how to get on the end of passes into the penalty box. Perhaps even more importantly, he brings out the best in his team-mates too. Saha's pace means that defenders are likely to defend quite deep, giving Rooney, Ronaldo, Giggs and co. more room to operate in. Without someone threatening to get in behind them, the opposition's defence can hold a high line and pressure the Man U midfield more when they are in possession. Saha is also constantly on the move across the pitch, dragging defenders out of position, which again creates room for team-mates. Although Fergie has never appeared completely sure that Saha should be in the first team for the long-term, it is a fact that Man U play their best football when he is in the team.
People will say that because of his excellent contribution last season, Ronaldo is Man U's most important player. But there are other talented players in the squad who are direct replacements for him. The same can be said for Man U's other stars such as Rooney, Tevez and Giggs. Saha is Man U's most important player because he is the only person in the squad who can play in an absolutely fundamental position. And as he is so crucial to the reigning champions, Saha could also be the most influential player in the outcome of the Premier League.