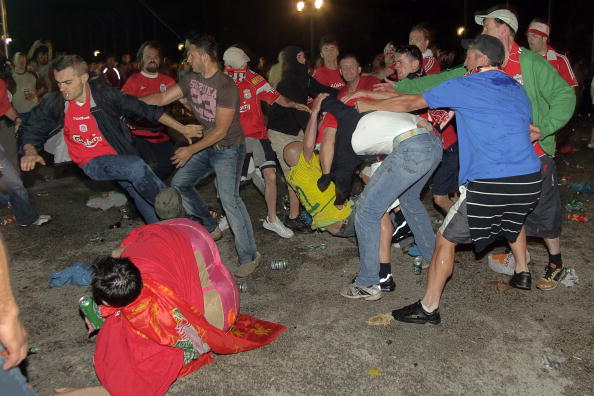 Edward wonders if the pigs have gotten it wrong.

In response to Saturday's article in the Daily Mail about the survey which shows Manchester United, Chelsea and Leeds having rowdy and violent fans, we've decided to open it up to COS readers to say what Police Review Magazine won't.
In analyzing my own experiences, I think I've seen some pretty rowdy games. I've been lucky enough, to experience some white knuckle-rides at Goodison. Everton were in the relegation mire for most of the 90's , also won an FA Cup during that time, and now the excitement is mostly at the other end of the table. The most violent experiences of my somewhat coddled fandom occurred when England were playing, which led to vitriolic clashes in my south London home, far away from any football stada, were by far the worst – especially when we played Germany.
So who, in your experience, are the most rowdy, violent fans? Are you going to trot out the usual suspects like Leeds, Millwall, and Chelsea (although what yobs can afford to go to the Bridge these days) , or will you choose some lesser known loon-fans – Doncaster Rovers anyone?
Read about premier league fans
Caughtoffside.com – Sports blog offering Sports news & Sports articles