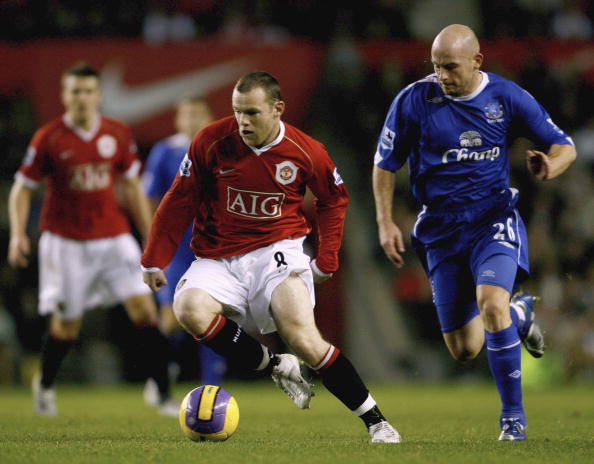 Edward pines for the Everton legend who never was… well maybe for Manchester United.
The Daily Mail is reporting that Wayne Rooney and his amazing powers of healing could be present on the pitch this weekend for Manchester United against his old-flame Everton. According to the Mail, Rooney is "desperate" to come back and play against Everton, where he will no doubt score and kiss the badge of his new beloved. So are you still angry about Wayne? I for one am still haunted by Wayne, his heart-wrenching transfer, and the parallel universe where we kept hold of Roo and built a team around him.
I have been living in the US pretty much since Wayne left us. I haven't ever seen him play in the flesh in a Man Utd shirt, I missed his debut hat-trick against Fenerbache, and his scorcher when he was shouting at the ref and half way through the argument lofted the ball into the top corner. Because of this I don't hate Wayne , I even got my mum to send me an England shirt with "Rooney 9" on the back during last years World Cup.
I guess I still thought he played for us, that he was still a blue.
Even though Wayne's star rose when I was at university, I idolised him like a child. Dunc was always my hero, but Wayne eclipsed him quickly. I remember staying at my grandparents house in Liverpool on the eve of our match against a bulletproof Arsenal. My dad and I stayed in the bedroom he used to share with his brother as a child. As we lay there, literally gnawing at my gran's bedspread with excitement, we restlessly speculated about the giddy heights that Everton would scale the following day. Many scenarios we're mooted that night, but the one we both liked the most (for its unbridled optimism) was that the latest young recruit from the Goodison sausage camp, Wayne Rooney, would come on and score a glorious winner in the dying minutes of the game. Maybe, just maybe, Wayne would go on to be as good as Michael Ball, Danny Cadamarteri, or even Franny Jeffers. "What if, dad? What if he's a 'god', like Franny was?"
How stupid that sounds now.
We all remember what happened that day. Little snapshots flutter back into my memory. Wayne's goal, a Krakatoan eruption in Goodison, my dad letting off a minute long ecstatic scream at the final whistle,and listening to the feverish hoarse voices at the train station talking about 'our Wayne'. The rest of this fairy-tale remains unwritten. Wayne didn't go on to be an Everton legend and he didn't lead Everton into a golden age. As long as I live in the U.S., 3,300 miles away and sheltered from his successes with Manchester United Wayne will occupy a strange limbo in my heart, I neither revile him or love him. Everton were of course compensated with millions for letting him leave. But the Wayne I knew, the bullish mercurial street-fighter, I wouldn't swap him for a wilderness of millions. For once I am thankful to live 3,000 miles from Goodison, if I was there my high opinions of this idol, who is "desperate" to play against us, would surely vanish.