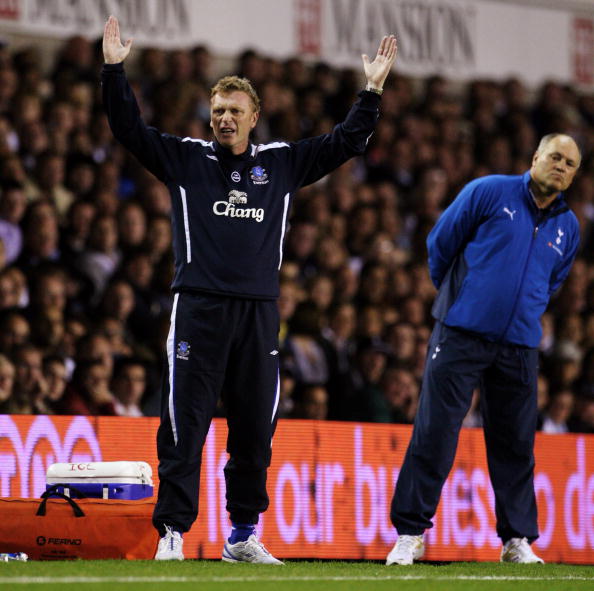 Two Men Enter is a new CaughtOffside feature, where we'll pit folks against each other and ask you, the readers, to determine who comes out on top. This time it's two of the Premier League's promising young gaffers going head to head.

CaughtOffside Needs Your Help!
Inspired by Steve McClown's patriotic battle-cry of "GET IN THEIR FACES LADS!" we've got all aggressive. Its blahhrdy International Week though so aside from beating each other up in the COS office their isn't much to get the aggression out, so instead a hypothetical between two up and coming Premier League managers seemed a better idea.
We originally had this as a fist fight, but it wouldn't be fair unless we allowed groin shots which is pretty much all Moyes could use to bring down the ogre that is Martin Jol.
In the Blue corner we have David Moyes, manager of the "People's Club" Everton FC since 2002, he has systematically culled countless dead weight players, whilst actually bringing in some bargains too, like Cahill and Arteta (we won't mention the nightmare signings of Kroldrup and Beattie). At the same time Moyes has pushed Everton's progress to the other side of the League table, his finest hour so far has been to secure a Champions League spot (only to crash out to eventual semi-finalists Villareal). Moyes' record against Spurs hadn't set the world alight until last year, and they now have back to back away victories at "The Lane". Recently Moyes has started to even splash the cash, bringing in Andy Johnson and Yakubu for hefty fees. The poster boy for patience and faith in a "five year plan"
In the Lilywhite corner is Tottenham manager Martin Jol, the poster boy for lack of patience and faith in a "five year plan". He has consistently threatened to shatter the glass ceiling and move into the Champions League places. Jol's job security is tracing paper thin these days, thanks to an impromptu Spurs board field-trip to see Sevilla's Juande Ramos, but would we even be having this debate if it wasn't for some rancid lasagnas? What has been arguably most impressive about Jol's reign is his constant impressive acquisitions – making for a very impressive, and young squad, he improved them further this summer. And lest we forget, Spurs had an atrocious start to last year's Premier League, so all is not lost!
So if you had to pick one of the two to manage your club, who would it be and why?