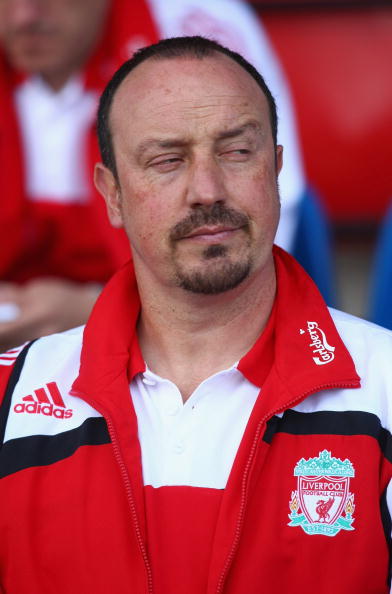 Today Rafa Benitez can be heard sitting in his Ivory Tower screeching: "Infamy, infamy they've all got it in for me!" over having to play Portsmouth so soon after his players get back from far off lands.
International Week is over and everything is rosy with the world, Michael Owen is 'back' and James McFadden has scored a miracle goal against the French in Paris. Everybody on this glorious Isle seems to be happy, well , everybody apart from Rafa Benitez that is. The Liverpool manager has expressed his utter unadulterated disgust (yet again) with the fixture list, claiming it was "impossible to prepare a team properly" following an international week.
Benitez' Liverpool face Portsmouth this weekend, and with plenty of the Spaniards' most important players featuring over this week, he believes that he is getting in worst than most. Poor Liverpool and the beleaguered manager face Portsmouth on Saturday at 12:45pm, I really don't know how they get up in the morning.
Rafa wept:
"I am really disappointed with the fixtures that we have because it is more difficult here in England. You play early kick-offs on the Saturday (after internationals) and it is impossible to prepare the team properly. The players arrive back on Thursday evening and the only thing you can do with some of them is just to run a little bit and send them home. Friday morning you will have a light training session and you will travel to Portsmouth in this case and you cannot prepare the team."
He then blew his nose on his Paddington Bear hanky and added:
"Normally the players that are going away are internationals because they are good players and you need these players for winning every game. For me it's impossible to prepare the team properly, you can prepare small details but to prepare the team physically and mentally for the game will be difficult."
Everyone has the same problems, although Rafa did pull out some statistics a few weeks ago saying that Liverpool got it worse than others. But if you lose against a teams with severely less talent than you, it's probably not just because they were a little sleepy.